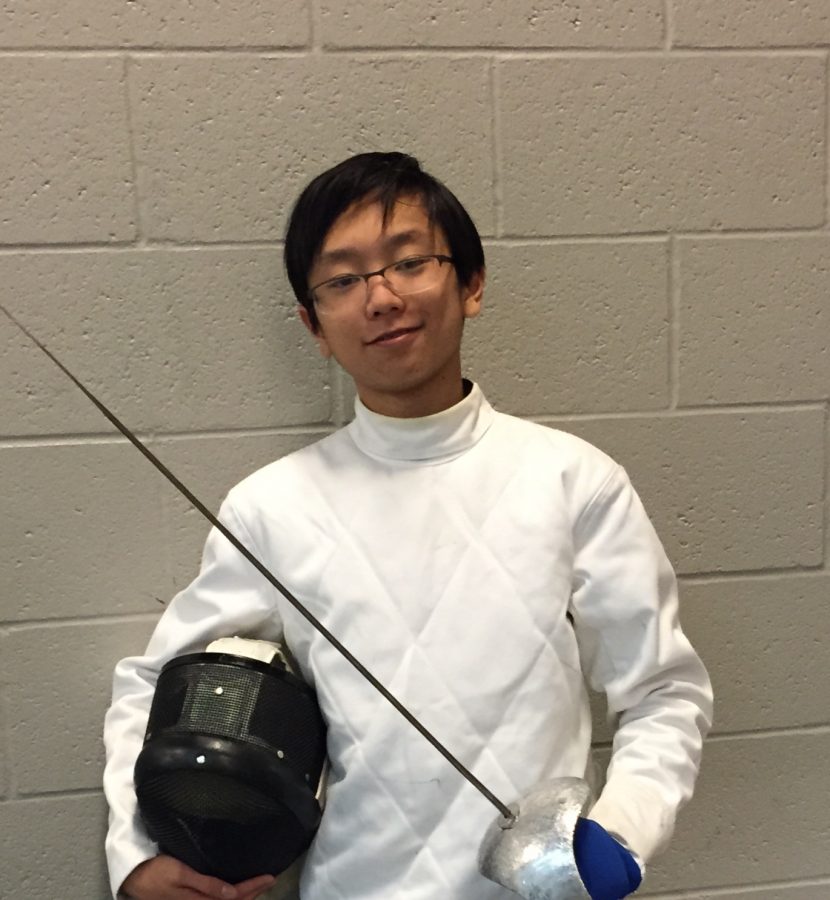 What do fencing, zookeeping, and speech have in common? James Han
For most of us, the typical high school day includes the slow plod to class, the rush out the door, throw in a practice at the end of the day. Then there is senior James Han.
On the academic side, Han has the outlook that learning new things is fun, and has challenged himself throughout the entirety of his learning career, taking numerous accelerated courses.
On the extra-curricular side, he is involved in speech, debate, theater, WYSE, chamber orchestra, and tennis, keeping him quite busy.
Oh, and then there is his life outside of school: Han is a junior zookeeper at Miller Park Zoo and has several hobbies, such as, playing the viola, fencing, and cooking.
It takes a lot of motivation to be so involved in both the school and community, and still receive good grades in so many challenging classes.
"I became active (in school) because I wanted to make the most of my high school experience," Han said. "It doesn't make sense to just take easy classes and do nothing all day. I want to make my four years packed with learning, extracurriculars, and fun."
However, being involved in as many activities as Han is also takes dedication and balance.
For Han, finding that necessary balance has always been a struggle but never impossible, and with the help of a daily planner he makes time for everything in his busy schedule.
"I don't really know if I've struck a perfect balance, but I try to make time for everything,"
Han said. "I tend to schedule when I will practice speech, music, and do homework with designated windows of time for each. If I fail to get enough work done on something I move on anyways because I can't afford to let one activity or class dictate how everything else will go."
Han claims that with that system he typically never falls behind and is able to stay nearly 3-5 days ahead in classes.
He also attributes much of his success in being so productive to getting enough sleep: "If you sleep well you will do better in all other aspects of life," Han said.
Han said the U-High environment and students have also contributed greatly to his success, even been his favorite part of high school.
"I was so lucky as a freshman to have a senior class that genuinely cared about my well being and my future, and I think that U-High is a unique environment where we take care of each other. Every other part of high school wouldn't be as good if I didn't have an amazing community to share it with, and I want to continue fostering a familial atmosphere at U-High," Han said.
College is undoubtedly the next step for Han; however, he still has not decided where to attend. He is looking at a pool of outstanding schools, including Princeton, Harvard, Yale, Georgetown, Brown, Vanderbilt, Columbia, and Stanford. Han faces a hard decision, but he does know that he wants to study economics.
"Economics represents the culmination of interdisciplinary learning to me. I would get to synthesize mathematics, sociology, psychology, history, philosophy, public policy, and dozens of other fields as an economics student. That kind of learning really excites me, so no matter where I go I plan to study economics," Han said.
Han's parting words were to encourage his fellow students to create and participate in the community in which they are a part.
"It's easy to become self-centered and goal-oriented, but that also isn't a fulfilling way to live life," Han said. "By becoming more active in the community not only do you make friendships that can last a lifetime, but you also can create a vibrant and supportive community."