Students take on social justice work
Weathering this divisive election
George Floyd's death at the hands of police at the end of May sparked a tidal wave of outcry against police brutality nationally and locally, resulting in countless protests focusing around the Black Lives Matter Movement. Now on the eve of the 2020 election, one of the most divisive in recent memory, yet another police shooting in Philadelphia and the subsequent protests are making the headlines.  
These events are not happening at a remove from the school community; many students are actively raising their voices. Students recognize the tension from opposing political parties that surrounds the upcoming presidential election in early November and are being proactive in organizing events that will resolve potential disputes. Their solution: restorative circles.
"Restorative circles are a form of communication that allows students to have a conversation about what's going on in their lives and how it's impacting them and how they've changed overtime," junior Erica Rosenberger said. Rosenberger leads NIOS, a community-based organization that seeks to create safe, accepting, and inclusive school environments; she also works with the Student Diversity Committee.
These restorative circles will take place after school and will be available to all students who would like to participate. Senior Yvin Shin, co-leader of NIOS and president of Student Diversity Committee, Rosenberger, and other U-High social justice student leaders are attending 3-hour training sessions every other weekend to learn how to properly monitor and facilitate these listening groups.
"We're trying to establish a foundation of shared values or shared consensus on our conduct before and after the election implicitly so that when tensions do erupt, we have a framework in place that we can take larger conversations towards," Shin said. 
To further address expected tensions in the school, the Student Senate has constructed a Statement of Values to help foster a school environment of inclusivity and tolerance. 
What experience do students bring to this difficult task?
Over the summer, the Black Lives Matter movement tested our community, as well as our country, in numerous ways. Social media played a massive role in spreading awareness about the events that were taking place. Black Lives Matter posts flooded every social platform for weeks on end.
"It was a global explosion of what's going on with the Black Lives Matter movement. It was obviously going to lead to a lot of feelings and emotions," Rosenberger said. "Initially, I was really sad, thinking why would someone ever do this. And then it turned into anger." 
These powerful emotions in our students were outwardly expressed not only through social media, but through attending protests as well. For some, it was their very first time engaging in any sort of a political protest.
"Whenever you look in pictures, they always make it seem like this big, aggressive, scary thing," Rosenberger said. "The first one I went to perfectly showed my goals of making a safe and respectful way to share that message."
Students gained a powerful perspective by attending these protests.
"I have learned so much. I felt like I knew a lot about racism and inequality in this country, and I feel like this movement has taught me so much more than I didn't even realize," Adrian Mendez said, a junior who demonstrated an especially active role in our community's Black Lives Matter movement. She attended several protests, as well as sang a moving rendition of 'Lean On Me' at the candlelight vigil on Saturday, July 28.
These protests brought people together from various backgrounds and with different motivations for participating.
"It was incredibly validating this summer to see people who I did not think had any interest in the protests whatsoever start to gain an interest," senior Yvin Shin said.
Despite the visible support from the community at all of the protests, there were still instances of backlash, and unfortunately, some students were caught in the middle. 
"I was there when the guy came through on a motorcycle and hit a woman. She was standing about 5 or 10 feet away from me. It was kind of freaky," senior Kate Embry said, speaking about a protest that took place in downtown Bloomington on Sunday, March 31. Embry is the president of U-High's Sexual and Gender Awareness Club. "There are people who are not in support of the movement which is part of the reason why we have to have the marches."
Such  threats didn't stop students from continuing to aid in Black Lives Matter efforts. Several students even went on to organize a variety of different events.
"We tried to create events that were accepting and inclusive for everyone in a time that we're all very separated," Rosenberger said.
As leaders of Not In Our School student organization, Rosenberger and Shin put together a protest on June 25 at Maxwell Park to bring attention to the police brutality suffered by the black LGBTQ+ community.
"The Black Lives Matter movement is pushing for representation, inclusivity and diversity, but it lacks that representation of the black LGBTQ community," Rosenberger said.
Rosenberger and Shin overcame legal hurdles, including acquiring permits from the Normal Parks and Recreation Department and notifying the local police. They also had a difficult time promoting the protest without access to word-of-mouth during these times of disconnection. Local youths gave multiple speeches throughout this event, including one from Shin herself.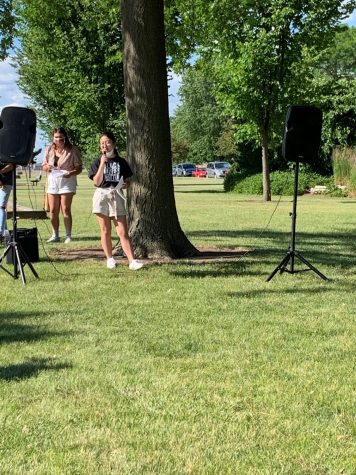 "I talked a lot about how the Black Lives Matter hashtag translates into Korean, so in Korean, it's actually black lives are precious," Shin said. "We must do more than say that they matter, we have to acknowledge that the inherent diversities of their stories are so precious to us." 
Approximately 100 people participated in the event, including Linda Foster, the president of the local NAACP chapter. But most importantly, awareness of this type of discrimination spread throughout the community.
"You should support one another whether or not you're black or white, or you're part of the LGBTQ community or not, because it all overlaps and you can't support one without supporting the other," Embry said, who was asked to speak at the protest.
In addition to the May protest, NIOS set up a contact-free food drive, a silent march, a candlelight vigil, and multiple book drives throughout the summer. 
"There were a lot of needs to be met, and we thought that we could be that step to create that," Rosenberger said.
Future plans
Going forward, students are continuing to support the Black Lives Matter movement in several ways, each student choosing a different direction.
"I am planning on putting together an event hopefully this year, possibly in the summer, to amplify local black artists, be that dance, musicians, physical artists," Mendez said.
Additionally, student organizations are working on several projects to foster further conversations regarding school inclusivity. 
"We would like to create a page on the U-High website where it is a mentorship with the faculty members and with the students," Rosenberger said. "This project will be creating a family mentality by creating conversations."
The program will maintain confidentiality within the relationships while working through the problems that students are facing at school or at home. This will also help the administration to further support minority students by becoming more aware about students' experiences.
The fight is not over
Students definitely showed up, and will continue to show up, to fight discrimination and racial injustices in our community. Through attending protests, organizing different events, and even just sharing informative posts on social media, students are making a difference in their own diverse ways. But the fight is not over.
"Regardless of whether you are proudly posting signs in your street or you look at yourself in the mirror everyday and say that regardless of whatever they say about me, I am valid. Any time you affirm yourself privately or publicly, we should consider that an active revolution," Shin said.