Men have spirit too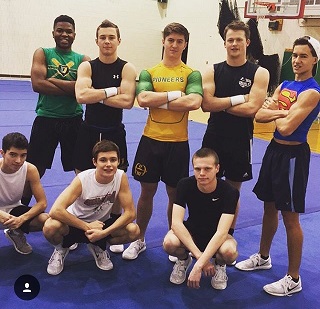 Hang on for a minute...we're trying to find some more stories you might like.
Beginning in 1898, cheerleading was originally created as a male sport, but as the years progressed, it evolved into almost exclusively a female sport .  
But this year, seven new males are trying to make a cheer comeback.
The newest additions to the team include seniors Skylar Bunton, JD Carr, Kevin Covarrubias, Zach Frey, and Noah Walker, junior Beau Hendren, freshman Zach Wolford, and sophomore Caleb Evans, a returning member.
What got Hendren initially interested in trying out for the cheer team this year was the influence of his older brother, graduate Bryce Hendren, who cheered all throughout high school and now continues cheering and studying and University of Illinois.
"He's a huge role model for me and I am picking up where he left off,"Hendren said.
Frey and Carr had a lot of skills to pick up on going into a new sport they haven't tried before.
"It's very different. In baseball you are very relaxed but in cheer you have to run and scream and it is very tiring," Frey says.
Carr faced his challenge of going from a hard-hitting sport like football, to a more technical sport like cheer.
"Usually I'm used to hitting people instead of lifting them up." Carr said.
The switch from cheering in the student section, to cheering in the sidelines was another change the boys had to adjust to.
"I'm used to being a yeller not a cheerer," Carr states.
U-High is one of three teams in town that are coed in competitive cheer. Having these boys help keep them competitive during competition season
Senior captain Micayla Mathieson has been on the team since freshman year and loves how strong and competitive the team is with the help of all the guys.
"They have been a big help to the team the past couple of years because our coed is one of the most competitive division's in the state," Mathieson said. "They have added a lot of strength to the team and have learned so much in a short amount of time."