Growing list of clubs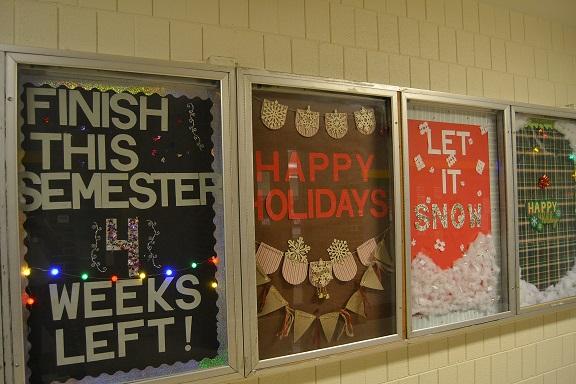 Hang on for a minute...we're trying to find some more stories you might like.
The community of clubs that run throughout the year continues to grow.  What makes this all possible? "The ability to start a club. If you really want it, you can make it happen,"  junior and co-founder of decoration club Ella Gordon said.
This year three new clubs joined the list: S.A.G.E, Black Student Union,  and  Decoration Club.  
S.A.G.E.
Working as a volunteer tutor at Western Avenue, junior Caroline Pickering has been successfully teaching a 5-year-old boy how to read and write. 
Out of a desire to do more for the Bloomington-Normal area, Pickering and three of her closest friends: juniors Anna Tulley, Lauren Dubravec, and Emma Noraian  modeled their organization off of the United Nations International Children's Emergency Fund (UNICEF).
"The same issues are very prevalent in Bloomington-Normal and it's not just in the world," Pickering said.
The group came up with the name Students Advocating for Global Education, S.A.G.E. for short.  
"S.A.G.E. is the only club that does fundraising and volunteering for the sole purpose of education," Pickering said.
Local volunteering and international fundraising are two major activities they focus on.  S.A.G.E. has fundraised and donated a total of $228, donating  $157 to Kiva, an organization that provides microloans to less fortunate people all across the world including Turkey, Armenia, Kenya and Liberia.    
"Receiving money helps them  experience their life to the fullest," Pickering said.
Black Student Union
Teaming up with her Jack and Jill mate, sophomore Jade Fung came to  junior Jordyn Blythe about the desire to start a Black Student Union at U-High.
Blythe wants people to know that anyone is invited to join; members are not just minority students.
"The main purpose is the focus we put on the black students at the school," Blythe said.
Blythe hopes the Black Student Union can inform the community on how society is built on systematic problems and spark difficult conversations.
"It is ok to be uncomfortable to talk about race because it's not suppose to be comfortable,"  Blythe said
Immediately after its creation, the Black Student Union received some backlash.
"Some people made a joke out of the Black Student Union by  making comments like I'm a make a white student union," Blythe said.
Frustrated but not deterred, Blythe insists this sort of backlash is why the school needs a Black Student Union and extends the invitation to attend BSU to all students.
"These are the issues that we need you speak out on,"  Blythe said.
In the future they hope to fundraise for a women's empowerment organization started by the First Lady Michelle Obama, M.I.T. which stands for "Michelle in training," Jack and Jill and the National Association for the Advancement of Colored People (NAACP).  
Decoration Club
You may have notice the billboards around the school finally being updated, that would be Decoration Club leaving its mark.
After seeing the same theme and color paper still up after the holidays junior Ella Gordon came up with the idea that she could give the school a little more spirit.
"We have so many people in the building from college students to professors all day long that we thought it was important to make our school look nice and put people in the festive spirit," Gordon said.
With previous experience from helping out her mom, a second grade teacher at Metcalf, Gordon put her decorating skills to work with juniors Maya Sorenson and Lauren Dubravec.  
Looking for a place to start Gordon noticed the counseling display cases in the junior hallway.  It was time for an update so she met with their now sponsors, the counseling office.
"They were more than happy to let us decorate the cases," Gordon said.
Decoration Club will be making an effort to include all cultures.
"That is one of the things that made the process longer in making the club because administration wanted to make sure we were inclusive of everyone,"  Gordon said.
If you are interested in joining any of these three clubs here are the days and times they meet:
S.A.G.E.
Black Student Union
Every other Monday @ 3:30pm
Decoration Club
Contact Ella Gordon for meeting dates