"The Spot" to be
"Have you been to the spot?"
"What spot?"
"No…THE SPOT… in Normal."
The Spot is a brand new healthy drink bar in Normal across from the Steak 'n Shake off Raab Road, taking the place of the old Smoothie King. The Spot is so new that you can't even google it or find it on the map. You can find it on Instagram @thespot_normal which is probably why you will find mostly millennials in this health drink bar.
My first experience at The Spot was overall a pleasant visit. It didn't help that three of my friends and I were all trying to get drinks 25 minutes before our next class started, but the location was convenient because it is so close to school.
When we first walked in we were greeted by a male and a female working there, and if you go on their Instagram page you can come to learn that these are the owners.
The staff was friendly and started up a conversation with us. They seemed like people that I could tell you would want to be friends with outside of The Spot.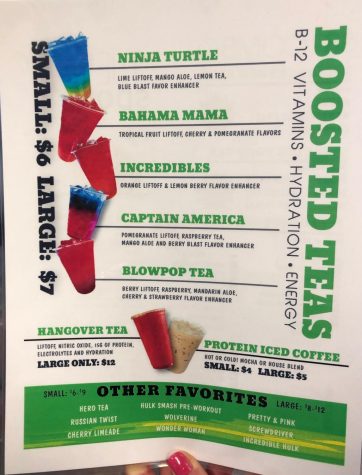 Don't be too overwhelmed with The Spot's menu. There are many different kinds of drinks and flavors to choose from. They specialize in healthy shakes, energizing teas, and coffee. The Spot is known for their healthy shakes and teas, so I decided to get "the combo," a protein shake and tea, with something called an aloe shot, all for eight dollars! While an aloe shot may sound a little sketchy, it is actually just a flavored sip of vitamin water that is supposed to be nutritious. I ordered the brownie chocolate shake, the strawberry lemonade tea, and the mango aloe shot.
All in all, it took about 15 minutes for two workers to make all of our drinks, but there was also no one else in front of us at the time. The strawberry lemonade tea is made by putting together strawberry flavoring, lemonade mix, another secret vitamin powder ingredient, and ice water. This was probably the best thing that I had from the spot because it tasted like regular lemonade.  I couldn't tell the difference between this and the sugar-filled strawberry lemonade I order at Logan's Roadhouse plus it had vitamins that you wouldn't find in your typical fruity sugar drink.
The brownie chocolate shake was subpar. This was definitely a one time drink for me. If I had to describe this drink in one word it would be grainy. Although it was a chocolate drink, I could taste the protein powder. While the idea that I was drinking something semi-healthy was consoling, it still felt like a waste of calories, especially for something that calls itself chocolate.
I was confused about the mango aloe shot included in this deal, but it sounded like a small side (maybe 2 oz.) of flavored vitamin and mineral water. The best way to describe this taste is that of mango-flavored pool water, but in the best way possible.
So if you find yourself in north Normal and craving a healthy drink, give The Spot a try and experience a whole new side to healthy drinks. It just happens to be the place, I mean the spot, to be.