Goats, horses, and golden doodles! Oh my!
Students drive long and far to come to U-High, and this diversity is something the student body finds pride in. One of the most adorable examples of this diversity is found in the home of senior Emma Martin, which hosts a population of 5 dogs, 2 cats, 6 horses, 5 goats, and a hedgehog.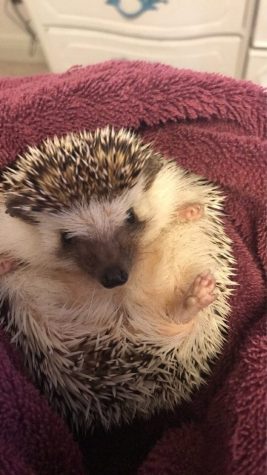 There is a comical backstory behind how the Martins came to possess all these goats. "We first got goats because my step dad promised my little sister a goat if she potty trained and this was 7 years ago. Then we just started accumulating them," Martin said. She explained that they are pets, not milking goats. "When they are born they stay in our house and we bottle feed them. They live in a pack in play in our living room." They usually stay in the barn with the horses, but have a pen when it's cold. Martin's mom, Julie Barth explained that theytreat the goats like dogs. "
Our kids will sit on the couch and hold them as they watch TV," Barth said.
Martin's favorite goats are Clyde, who is the oldest goat, and Oreo. Oreo is a fainting goat. According to the Livestock Conservancy a fainting goat, otherwise known as a Myotonic or Tennessee Fainting Goat, has a condition " in which the muscle cells experience prolonged contraction when the goat is startled. The transitory stiffness associated with these contractions can cause the goat to fall down." Essentially, they faint.  Emma stated that this occurs with Oreo as well.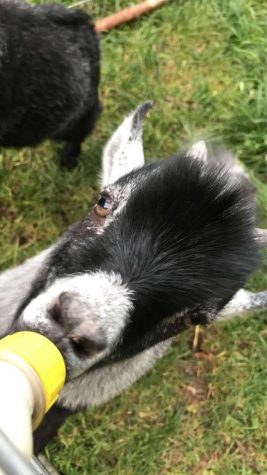 This past fall, the Martins moved to a new home. This transition gave them the opportunity to add horses to their menagerie. Senior Teagan Jordan, one of Martin's best friends since freshman year, helped the family move into their new house and remembered a particular incident with the horses. "We had to switch two of the horses from their stalls. This was a struggle because they began fighting and we had to hold them and calm them down. It ended up that her mom and step dad had to come help us."
Martin's younger sister wants to compete in barrel racing, and this was one of the incentives for getting horses. Her sister, Alexandra Barth, who goes by Lexie, is only 8 years old, but she is already practicing and preparing to compete in rodeos. According to the International Barrel Racing Association, Barrel Racing is a sport in which a rider maneuvers a horse at top speed through a clover leaf pattern of barrels to get the fastest time, without knocking over any barrels. Until 1949, Barrel Racing was only for women and it wasn't as much about speed as it was about fashion and maneuvering. 
Julie Barth went more into the details of Lexie Barth's barrel racing endeavors. "Her horse's name is Reba McEntire because she is a red horse," she said, "they are just getting used to each other." She went on to explain that Barth practices the barrel racing pattern in an indoor arena, starting with a trot and then a lope (which is faster than a trot.) Barth currently goes to the Pekin Riding Club on Tuesday and Friday nights, and this is a great place to get experience without the pressure. They hope to enter her into a couple tournaments in Delavan, IL this summer.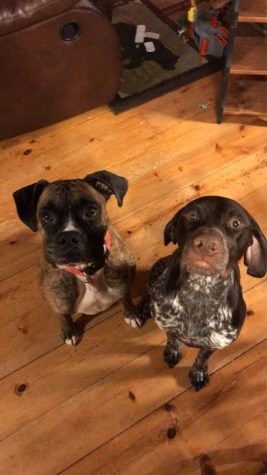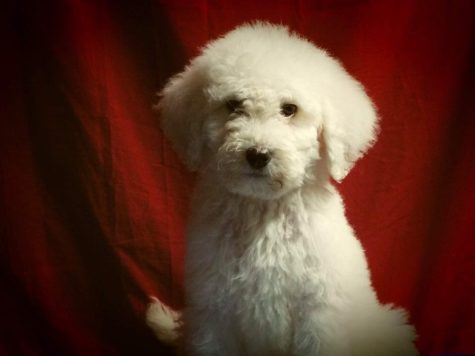 One of the most recent animals the Martins have adopted are Goldendoodle puppies. They already had other dogs, but this new change was inspired by the move, as well as the desire to breed these puppies. According to the Goldendoodle Association of North America, Goldendoodles first started emerging in the late 1990s. The reason this breed became so popular is the combination of the temperment of the Golden Retriever and the low shedding that catered to allergies. They are extremely social, non-aggressive, and smart since both Poodles and Golden Retrievers are among the top 4 smartest breeds.  
The Martins currently have two Goldendoodle puppies. The female puppy is Luna and they got her from a breeder in Roanoke. Rex, the male pup they found in Southern Illinois. His name is short for T-Rex. Martin explained that "my sister convinced our parents to start breeding because they want puppies all the time." Luna is 8 months old so she should be ready to have puppies. According to the American Kennel Club, dogs tend to be pregnant for 9 weeks. 
This new business that the Martins are embarking on is predicted to be successful. "We plan on creating a website," Martin said. Martin also stated that they have many family friends that already want puppies. Teagan Jordan is confident in the Martins' ability to breed Goldendoodles in a safe manner. She also commented, "Emma's mom is very active on Facebook, so they will probably get a lot of business through that."
"The dogs, in general, are my favorite," Barth continued, "they are always happy and excited to see you. They are grateful and loving."
Although Martin is constantly surrounded by animals, this does not align with her career path. She desires to be a surgeon. Her friend Teagan Jordan, on the other hand, would love to work in this field. "I'm going to Southern Illinois University for animal science, to become a veterinarian. I hope to work with farm animals in the future. I already have a job lined up at SIU to work part-time on a farm."
Most of these animals are just the family pets, not belonging to anyone in specific, all except Martin's hedgehog. "I bought my own hedgehog last July. She was really expensive," explained Martin. Jordan commented that "Emma adores Penelope, her hedgehog. I am constantly getting pictures and videos."
Julie Barth concluded that having animals is a family affair. "The kids do their share, they feed and water the animals," she said. Barth has been an animal lover since she was little, and although the kids love the animals and partly convince their parents to get them, Barth is fully on board. "Animals are a lot of work and money, but they are worth the investment for us. Otherwise we wouldn't have them."