New semester, new teacher
In December, new physics teacher Aaron Pacheco received his diploma from Illinois State University. In January, he received his first classroom. Pacheco has taken over the classroom of former physics teacher Luke Luginbuhl who left to further his solar panel business.
A lover of Indy Folk music and musicals, Pacheco is excited to bring his engaging teaching style to the students. But as a mid-year arrival, Pacheco had to figure out what the students have learned already and he has to teach them in the time remaining.
"All my students have been great at accepting a new teacher," Pacheco said. "The hardest part is just figuring out what my students already know, and what I want them to know."
So far Pacheco has done several labs, such as using a cork on a string to help students explore radians and mass and a balloon experiment in which the balloon traveled across a line of string to demonstrate force. Pacheco is planning on doing many more interactive lessons as the year progresses.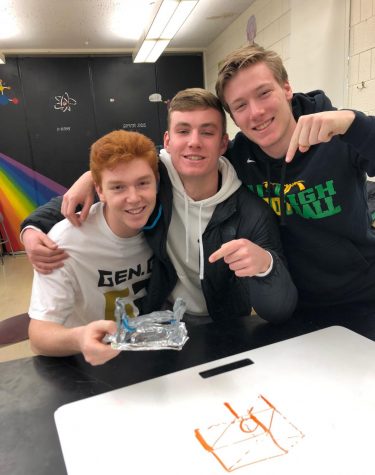 "I try to run inquiry-based labs where I allow students to draw their own conclusions instead of me telling them what it should be," Pacheco said.
Pacheco's love for physics emerged after working for nine years at a boy scout camp. It was there he realized he wanted to share his joy of science with many more young people.
"Mr. Pacheco does an excellent job at keeping students engaged and personally trying to connect to all of his students," senior Aidan Bovee said.
Junior Tori Coleman said Pacheco works carefully to prepare the students for new material.
"Overall, I think he is very helpful in making sure we understand the new content and gives us a lot of practice and ensures that we are fully prepared for upcoming tests," Coleman said.
Eventually, Pacheco wants to move back to the South. For Pacheco this includes the Carolinas, Texas, Florida, or California.
But those plans are in the future. For now, Pacheco is focused on the students in front of him.
"My end goal is to create an interest in physics to as many students as possible and let them develop advanced problem solving skills," Pacheco said.
A line from Pacheco's favorite song Birds with Broken Wings reads, "You gotta walk the bottom if you wanna see the top." Despite being a recent graduate, Pacheco landed his first full time teaching job a couple weeks after. Walk into Pacheco's physics classroom any day of the week, and it looks like he is already heading towards that top.