Cornfield to Ivy League: Nick King's journey for speech & debate
Breaking away from the familiarity of competition in the Midwest, King found himself at the Yale Invitational this year on September 13.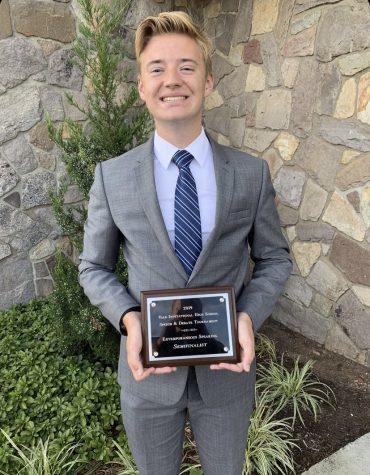 The Yale Invitational contained 138 participants competing in Extemporaneous Speaking. King made the first round, along with the top 48. After competing in two more rounds and being top 12, King was just shy of making it into the final round. These results testify the hard work he wants to set for the team. Extemporaneous Speaking is a difficult form of speech where a participant must speak from prepared notes. Thirty minutes before a round, a speaker must pick a question, and then they have thirty minutes to prepare and memorize a speech. King particularly enjoys this limited prep event.
"My favorite part would probably be the little extemp squad we have going on right now," King said, "We really focus and work on building a positive culture." 
Building a positive culture has become a serious focus since freshman year. Good friend and teammate, senior Lillian Wilkin echoed his statement.
"It has definitely been one of the more welcoming, accepting environments I've ever been a part of from teammates to coaches," Wilkin said. 
This environment propelled King to become a very successful member of speech at U-High. 
"One of the main goals of all the coaches is to actually empower all the people who are on the speech team to share their own voice and lift up their own opinions and this helps bring out the best in us," King said. 
King didn't start out as a top tier speaker. Teammates and coaches all agreed that he has made considerable improvements. 
U-High speech and debate coach Brian Rohman said, "The biggest area of growth for Nick is seeing him go from being a freshman that is a little awkward at times to maturing as a senior and being a more confident speaker."
Rohman noticed King felt most confident at the Tournament of Champions earlier this year. The Tournament of Champions is a tournament that holds the top 60 exptempers in the country. 
"Nick was in the elite of the elite," Rohman said. "Things seem to be going okay for Nick, he seemed to be enjoying himself, which is not something I would always see happening to Nick at a tournament."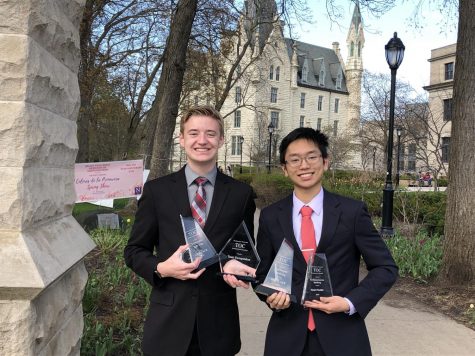 King credits former teammate and close friend James Han for a part of his success. Rohman noticed a tight bond between King and Han.
"As students get older, a lot of our upperclassmen will go into (mentoring) roles," Rohman said. "We are a lot about legacy, we don't just want to be good this year, we want to be good for the next ten. Our students get that and James got that. He saw Nick as being his direct legacy. He wanted Nick to succeed. It's definitely a relationship that still exists." 
The bond between the two clearly remains despite distance. A student at Yale University, Han attended the Yale Invitational to support Nick. 
"I can attribute a lot of my success to James, he was helping me along the way, doing warm ups and vocal exercises," King said. 
The lessons King has gained from Han is something he wants to continue delivering to his team. 
"My goal for this year is to see that every single speech I give is the best speech I've ever given," King said. "And if the results say I did well after that, so be it, but the goal for me is to just give the best speech I can because it could be one of the last times I do."
The upcoming speech season for King and the team is an exciting one. 
"Pioneers don't rebuild, we reload," Rohman said.