Fall teams adapt to the pandemic
Football
The leaves are falling; through these halls the students, at long last, walk, but Hancock stadium remains quiet.
Instead of scrimmages on the field, the football team is working tirelessly in the weight room in preparation for a season they hope will still happen
"My philosophy this year has been to get my players to know their offense, defense, and special plays, so that when the IHSA says 'go,' we're ready," head coach John Johnson said. 
The players are not letting these setbacks defer them from their overall goal: having a successful season. 
"We're taking this time to better our individual play and team dynamic," varsity captain Peter Deffenbaugh said. "The extra time only gives us more opportunities to improve." 
The team will continue to practice through the winter, in hopes that the Friday night lights will shine once again this spring. 
Cheerleading
Although they are not on the sidelines this fall, the cheer team also continues to work on their skills and performance in preparation for the potential season this spring. The biggest setback this season is that the team is not able to practice any stunts, as that interferes with the government-mandated guidelines to stay six feet apart. 
First year coach Lea Menning has been doing her part in keeping her team motivated at practice.
"We have been trying to stay positive, bond as a team and make the best of the situation.  We have tried to incorporate fun things to do as a team that are 'COVID-safe' she states. 
Specifically, some of the activities they have done include team workouts and competitions promoted through social media that involve prizes for the winners. 
As the season progresses, the cheer team is looking forward to strengthening their sideline cheers as well as their jumps and tumbling skills.
"Looking back at our past successes and how we've handled tough situations, we are confident we can adjust to these changes and continue to enjoy time together on and off the mat," cheer captain Olivia Graham said. 
Marching Band
The marching band is missing out on their halftime performances, as well as their Saturday competitions. The band has had to make some drastic changes to the way they practice including altering their drill to fit the social distancing guidelines and adding covers over the bells of the woodwind and brass instruments.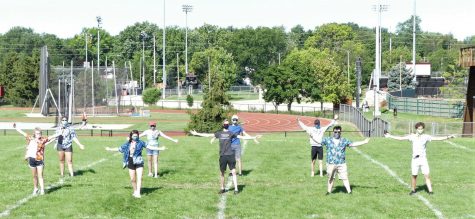 "Our motivation this season has been that we still get to be together on Tuesday nights, and that we get to enjoy making music and having that sense of accomplishment there," marching band director Jason Landess said. 
Marching band members are also keeping their minds open and focusing on the positive outlooks of this situation. 
"Even though this season is very different, I hope that everyone still had a good time and is proud of how far they've come," junior drum major Ainsley Floyd said. 
Volleyball
The road to Redbird arena was delayed as the volleyball team continues to work through the circumstances created by the pandemic. The guidelines do not allow for six-on-six play, so the team has been focusing on their individual skills and using all of their contact days, meaning a coach can be at the practice, to the fullest.
"I've been trying to provide a positive attitude about the fact that we need to be thankful for any contact days we have in the gym," varsity coach Mike Bolhuis said, "I want the girls to cherish every minute they have in there."
The players have adapted to these changes by wearing masks during practice and sanitizing the volleyballs before every practice. They are using this time to strengthen their offensive and defensive skills and to get a feel for the strengths of their teammates. 
"Having time to build that chemistry and have a better understanding of how my teammates can contribute to our offense or defense will be very beneficial," senior Kendall Burk said. 
The team ultimately hopes to get to play this spring, but is content knowing the life lessons and memories imparted on them throughout this season will only strengthen them as players in the future. 
As of last week, the Illinois Department of Health deemed basketball a high-risk activity; however, IHSA announced that the season will begin with practices on Nov 16 and games on Nov 30. Football, cheerleading, and volleyball are scheduled to return to play on Feb 15, and their seasons will continue through May 1.