Freshmen find new ways to socialize
Connecting through social media
Members of the class of 2024 entered the building as students for the first time on Monday, October 19, and Wednesday, October 21, eight weeks after classes started virtually in August.
Although not all the freshmen have chosen to return for blended learning, they all have experienced the unique challenges of being a freshman this year, especially in transitioning to this lab school in which students come from multiple feeder schools. 
Many, including freshman Grace Hany, turned to technology to get to know their classmates during the summer.
"Before school started, I was just DMing girls who were in my block or going to U-High," Hany said. "I don't know if I'd be able to know as many people if I didn't have that outlet."
Freshman Zoe Przybylski also used social media to expand her social circle.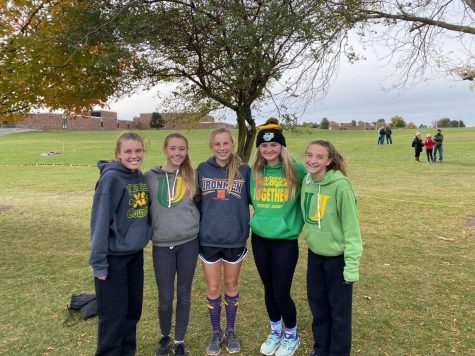 "I've tried to make connections with people online and that's been helpful through social media," Przybylski said. "I knew a few people and they gave me names of other people and their Snapchat or Instagram and then it kind of just spread from there. It was a way to connect through assignments and other activities."
In the hopes of meeting more people and becoming more active in the U-High community, freshmen have been immersing themselves in different clubs and activities since the start of school in August.
"Whenever I was on a team or I was a part of a club of U-High you felt like you were a part of the school," Hany said. "With zoom, as a freshman, I really didn't feel like I was a U-High student because I was just in my house doing school. Having those extra activities, I was able to connect, hey, I'm a U-High student, I'm a freshman, I'm a high-schooler now."
Classroom Community
Meanwhile, inside the virtual classroom, teachers worked to help students meet each other and hopefully form friendships.
"We used to do ice breakers at the beginning of class. Just little questions about all of us. Sometimes we'd rotate and everybody would have to share what they did over the weekend," freshman Mayukhi Saraf said. "Just those little things trying to get us to make connections with the people in our classes."
While the ice breakers were only a minor formality to the freshmen, teachers had to work vigorously to create these activities.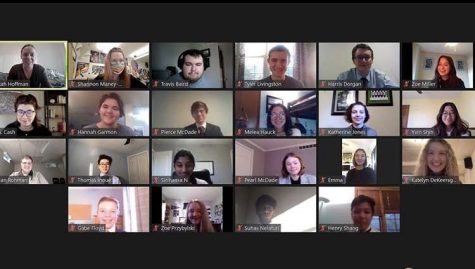 "It was really hard to come up with things that we could do that didn't feel forced. Getting-to-know-you activities always feel forced," freshman English teacher Rebekah Hoffman said. "You don't want to make it too awkward but you also want to cultivate community, so it was a really fine line to walk."
The Freshman Block teachers were well aware of the challenges they would have to face teaching students who didn't know each other.
"When you're remote everyone's muted, everyone's quiet so you can't actually have those extemporaneous conversations. It's very intimidating to turn your mute on and off and put yourself out there in front of people you've never met before," World Studies teacher Morgan Schmidt said. "We just kept at it. We kept forcing them together and now when they're in person, they talk a lot, even if it's just 12 or 13 of them."
The shift to blended or remote learning created mixed feelings among the freshmen, particularly about navigating the school building.
"I was really nervous about getting lost because I have classes on every single level. I was nervous about going down the wrong hall and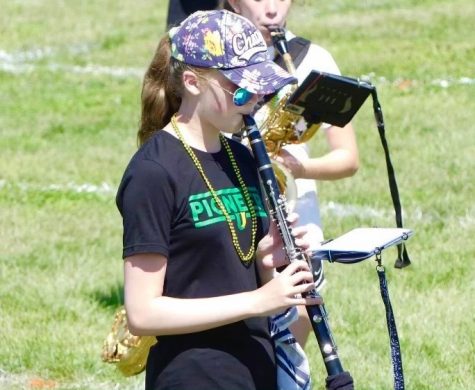 finding my way," Przybylski said. "The map that they sent out helped a lot. I don't know that I would've been able to find my classes without that."
Even with the return to blended learning, there are still concerns about forming relationships with classmates.
"I know the green class way better than I know the gold class," Hany said. "It's weird to have half the class that you know relatively well and the other half you don't."
Besides being in different blended groups, there are freshmen who have chosen to remain remote learning. 
"It was a decision me and my family made based on the circumstances we've seen of COVID numbers in our area and we thought it'd be safest for me to stay at home," Mayukhi Saraf said. "Sometimes there's a little less attention from the teachers than I'd like, but I am still getting all the content being taught in class."
Teachers recognize the challenge that their remote students face and are seeing a difference in students when remote learning versus blended learning.
"It's very difficult now to give adequate time to all of my students, so I'm really glad I had a chance to meet them and get to know them before we switched to blended learning because now if they're not sitting in front of me, I feel like they clam up," Schmidt said.
Although she is happy with her decision to remain remote learning, Saraf still has some apprehensions. 
"I think the hardest part would be not being able to experience the new school fully in person," Saraf said. "I've only been inside of U-High myself three times, so I'm a little bit afraid that when I go back to school in person I won't have a good idea of what the building structure is like or how to pace myself to get to class on time."
Amidst all of the challenges of remote and blended learning, there are some benefits that freshmen have taken advantage of.
"It's helped me learn names. I'm usually really bad with names but since all of the names are on the screen, I feel like I've learned my classmates' names a lot faster than I usually am able to," freshman Simon Kaeb said.
Hany also found starting the school year online to be helpful.
"It's a not as intense way to go into a new setting," Hany said. "You're able to gradually adapt your way into U-High."
Outlook for the future
Looking to the future, the Freshman Program plans to continue with the beloved tradition of the Greek Olympics next year in the spring. After winning gold last year, Ms. Hoffman is already strategizing how to defend her trophy.
"We don't have specific plans outside of we are definitely going to make it happen. As a Freshman Program, over the summer we sat down and decided definitively that Greek Olympics, even if it had to look very different, was not something that we were willing to sacrifice," Hoffman said.
Despite the immense challenges and the strange new format, freshmen are remaining optimistic and looking forward to the next four years they will spend here at U-High.
"I'm looking forward to trying new things. U-High has a lot more to offer than most schools," Karina Dagner said. "Since I'm a freshman and I have three more years of school after this, this is more of a year to test the waters and see where my interests lie."
Schmidt hopes her freshmen will have a great U-High experience and heed her advice.
"Step out of that box, try something new, engage in clubs and activities," Schmidt said. "Make a friend, speak over zoom, and make the best of what this year has dealt us."