Recruitment on pause
The Coronavirus crisis has impacted senior athletes in numerous ways, from having two consecutive seasons ripped away to having recruitment put on pause. For many athletes this may prove detrimental to their chances to excel at the collegiate level.
The year 2020 was supposed to be a peak for many athletes. However, global changes, including quarantines, lockdowns, social distancing put a hold on sport seasons.
Steve Evans, U-High's new athletic director, said it is a hard balance for decision makers. 
"It's difficult because I'm a huge advocate for student athletes," Evans said. "But Pritzker is trying to balance what's best for the entire population of Illinois. In all honesty, I wish everyone would continue to look at the data that is isolated towards student athletes versus everyone else." 
Although athletes could not train or compete in Illinois for a period of time, some athletes like senior volleyball player Jaelyn Sorenson, made sure the spotlight was still on them in order to increase their chances of being seen by a college coach. Sorenson knows that just because her travel and school season have been put on hold, her work ethic and training haven't.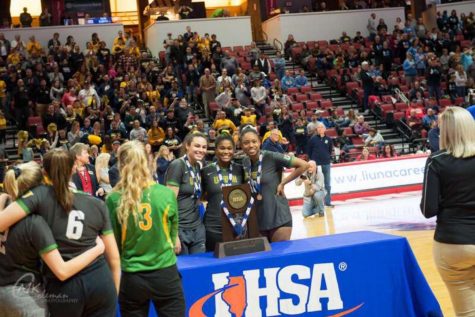 "Currently I've just been working out a lot in the gym and trying to get in as many extra reps as I can," Sorenson said. "By getting extra reps I've been trying to get as much film as possible and really push it out there to coaches so they know who I am."
Finding the motivation to keep training can be tricky.  Brandon Merritt, a senior basketball player, is determined to play at college. His mindset is to play every game, and practice like it's you last because it really could be. 
"The thing that pushed me the hardest during all of this is just not giving up and being lazy, just staying as motivated as I can to improve myself and get better each day." Merritt said. 
Some seniors will not experience a full two seasons on Varsity or a travel season for their sports clubs. Those junior and senior seasons are crucial to be spotted and recruited by a college coach. 
Justin Johnson, a multisport athlete participating in track, football, and basketball said he has learned not to take competitive opportunities for granted.  He wanted to send that massage to underclassmen.
"Please don't take it for granted, because these four years go by fast so yea just keep working hard." Johnson said.
These senior athletes continue to work day in and day out in hopes of playing; their love for their sports has not grown weaker.  In fact, Sorensen said it has made her hungrier to play college ball.
"At U-High, we're all very competitive in everything we do and knowing I may not have a senior season just makes me want to play even more," Sorensen said. "I've definitely been trying to make the best I can out of everything and looking forward to playing in college is helping me push through all of this."