Finding a chord: Musicians hone their craft amidst a pandemic
With the recent shift to blended learning last month, students who participate in band, orchestra, or choir finally have the opportunity to reunite with their peers and create music together.
Like many other activities, however, it has been a challenge to quickly and safely adjust to new COVID-19 guidelines, while still trying to provide a similar experience to previous years.
"In years past, we would do a 12-hour band camp for a week," junior drum major Abby Keene said. "Monday through Friday, eight to eight. This year, we decided to break it up into two blocks. I believe we did nine to noon, and then one to four-ish. Everyone got lunch to themselves. We weren't allowed to serve food or anything because of COVID, but we ended up having a sort-of band camp. It wasn't our usual, but we still made it work."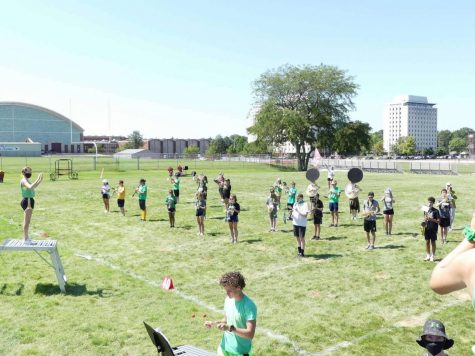 In order to continue in-person rehearsals, the band needed to create their own safety measures and get approval from ISU. Temperature checks, symptom checks, and hand sanitizer before and after every practice became a necessity.
"We had to make our own regulations that worked for us, approve it with U-High, and then get it approved by ISU," Keene said. "Mainly, always social distance, always 6 feet apart. Masks on, all the time. We actually have surgical masks with slits in them. When you're playing, even if you have a mouthpiece in your mouth, the spit can still come out of your mouth and into the air. A lot of people have cloth masks. Thankfully, with all of that, we were able to get ISU to give us the green light."
After explaining the safety precautions, Keene smiled, "I'd wear a hazmat suit, to still have band."
Despite the unusual season, according to band director Jason Landes, freshman band students and first-time marchers are adjusting well.
"I think they've [freshman] really done quite well, given the minimal experience that we've been able to give them," Landes said. "They've really done a great job of getting as much out of it as they can. Some of them did get a handle on the little drill that we taught, and the marching fundamentals. I feel good that we've at least given them some kind of a foundation to build on, for the next time we get to march."
Now that marching season draws to a close, Landes hopes his students will be able to get concert literature to a performance level, even if the class can't be fully together.
"Some other things that we've done, and I'm still trying to get this put together, is a virtual band, where each individual band member records them self playing something and then they send me the recordings," Landes said. "Then we put them all into a video, where everybody's in a grid. "The problem is, it's a very, very time consuming project that I've been unsuccessful with. We're trying to do one right now, where everybody's done their recordings and now we're trying to put it into that."
As for future choir performances, senior concert choir member and experienced Madrigal singer Anya Giordano explains the possibility of the yearly Madrigal dinners, which usually take place around Thanksgiving break.
"It may or may not happen. We're learning songs. I think she [Mrs. Corpus] planned on it maybe happening in second semester, when things might be a little bit better COVID-wise," she said. "It would still be Christmas themed, probably taking place even as late as March. She even mentioned that, if the church doesn't feel comfortable having their space rented out, we might just do an online concert. I don't want to have to perform in my basement wearing my Madrigal costume, but, you know, I'd love to have the group perform the full script."
To practice over Zoom, the concert choir utilizes an app called SmartMusic. With everyone's microphones turned off, the app helps singers stay on pitch, and later submit assignments from home. Recently, the choir has also been able to practice in person with the blended learning option, though not all everyone at once.
Regardless of these tools, like many others, Giordano wishes for a normal choir experience. One of the things she misses most is being able to hear everyone sing together.
"And birthday treats. There's no birthday treats, which is sad," Giordano added. "It's not really music related, but it's sad. Besides not being able to hear the full choir, I feel like a lot of aspects of social bonding have been lost."
Landes said he misses the community aspect of his class, alongside being able to travel and compete.
"The best part of my job is all the experiences that we get to have together," he said. "The time spent with the band students in preparing for performances, travelling to performances, being in the stands at football games, all of those experiences that make fall band what it is. Tuesday nights were something, but it didn't even come close to the relationships that band members get to build with one another."
Drum major Abby Keene feels the loss of community as well.
"I really miss football games and competitions. And being close together, performing stand tunes," she said. "Friday night, for band, is being able to hang out with your section, hang out with the people who really care about you, and being able to create memories together."