The Song of U-High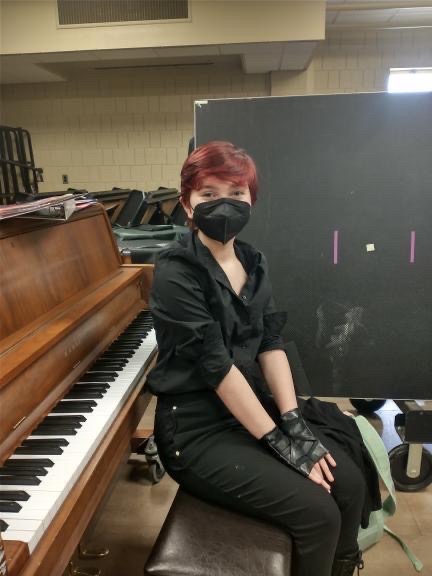 If you've ever had to drop off your instrument in the morning, you've probably heard the tinkling of a piano coming from room 101. Soft melodies and harsh chords cascade throughout the halls. But who makes these sounds? That would be freshman River Nalley. Nalley, who is self-taught, has only been playing piano since May 2021, but the way they play you wouldn't know. 
"At first I just wanted to do it for fun, to play my favorite songs," Nalley said. "I realized I had a passion for it, I don't know exactly what it is, but I feel I can express myself through it."
Small crowds of up to 12 people, a rather large crowd for an impromptu concerto, will gather around the old and rustic Kawai piano in room 101, all straining to hear Nalley pound against the cold ivory. 
"I used to get really nervous, but it's not as nervewracking now," Nalley said. 
"[Nalley] seems pretty nervous when they're trying out a new piece of a song that's difficult for them," freshman Elizabeth Perinchery said. "It's really interesting to watch them because It's like they were made to make music."
Perinchery isn't the only one who is enthralled by Nalley's musicality. Junior Emma Kirkwood frequents 101 in the morning while dropping off her viola.
"Certainly it's a better start to the morning than 7 am PE," Kirkwood said. 
Nalley plays before school, on their seventh period free, and after school. The whole time, drawing people in.
"I try to stick around after my PE class so I can hear them play," Perinchery said. "I listen to them play about 30 minutes every day." 
Nally performs anything from Cody Fry's Eleanor Rigby to Wrabel's The Village, even dabbling in Mozart.
"I wanna say I play pop but it's more like pop culture, so contemporary music," Nalley said. 
Despite the cool and calm demeanor Nalley puts off, they've struggled to remain motivated at times.
"When school started I was very caught up in my work and trying to make friends, and I was not sure I would end up being as good as I wanted to be," Nalley said. "But eventually as I got more comfortable and I got more into music, and had friends and family build up my confidence, that's really when I got back into it"
To Nalley, a future career involves Wildlife Biology or Veterinary practices, but that doesn't mean they plan to leave music behind. 
"It's [music] a way for me to release and express emotion, I find myself closing my eyes and moving along while I'm playing," Nalley said. "It's a coping mechanism."
While they're not being booked for concerts yet, if you want to check out this piano wizard, look in room 101 before or after school and, if you're lucky, you might just be greeted to the song of U-High, performed by River Nalley.