Pioneers to pilots
Getting your driver's license is one of the most exciting moments in your high school career. The hours of classroom instruction, practicing with your parents, and sitting at the DMV all end up being worth it when you finally receive your license. For two U-High students, getting their driver's licenses wasn't enough.
Seniors Logan Turner and Owen Williams have both wanted to be pilots for as long as they could remember. Both are currently going through the difficult process of becoming a pilot and obtaining their licenses, but if one thing is for sure, they are fully committed. 
"It can be somewhat difficult to manage time, but if you really want something, anything is possible. I have had to put flying on hold for a few weeks at a time due to soccer and other commitments," Turner said.
A testament to his hard work and determination both in and out of school, Turner took the initiative to start flying quite early. 
"I started taking flight lessons in December 2020," Turner said. "I have (flown) just over 70 hours."
With over a year of experience under his belt, he has been able to gain a strong understanding of planes and what it takes to be an exceptional pilot. 
"
I feel alive and free when I am flying. On the ground, you are restricted by roads, signs, and other people. In the air, I have the ability to do just about whatever I want. All of my worries disappear, and I am able to have fun."
— Logan Turner
"Great pilots have quick reaction times and good decision-making skills. As a pilot, something can go wrong in a split second. Unlike in a car, you can't pull over if your engine stops," Turner said. "Becoming a pilot is on par with becoming a doctor. A doctor needs to know everything about the human body and how to fix it. A pilot needs to know everything about every system on their aircraft and how it affects other systems."
It takes a very advanced skill set to become a successful pilot, including learning how to do crosswind landings, power-on stalls, and handling wind shear. In addition to that, it is obvious that there are many dangers involved, so why would someone choose this career?
"I feel alive and free when I am flying. On the ground, you are restricted by roads, signs, and other people. In the air, I have the ability to do just about whatever I want. All of my worries disappear, and I am able to have fun," Turner said.
While flying solo is a huge part of the fun for Turner right now, he looks forward to something much bigger in his future: flying passenger planes.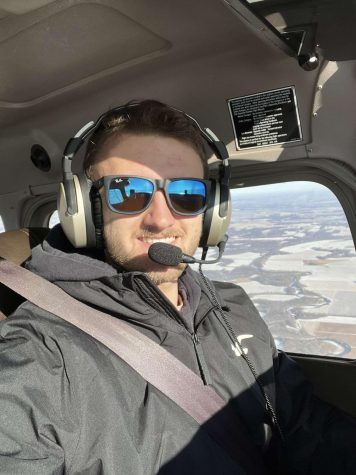 "My current goal is to become an airline pilot for a major airline such as United, Delta, or American Airlines," Turner said.
Turner isn't alone in this exciting process, though, as senior Owen Williams is also in a very similar position. 
"I officially began my flight training in fall of 2021," Williams said. "I currently have 11.3 flight hours and over 25 hours of ground instruction."
Although it has only been a couple of months, Williams has embraced the process by forming a clear perspective on what a successful pilot does and taking in valuable tips from his instructor.
"It's important to learn as much as you can on the ground before you fly," Williams said. "Pilots must have good communication skills, high awareness of their surroundings, and good problem-solving skills."
This is clearly a very demanding job with many potential risks involved. However, Williams offers a similar perspective to Turner on why this is what he wants to pursue.
"There is no better feeling than flying a plane, for me, it is the most freeing feeling in the world," Williams said. "In a plane, I can go wherever I want."
As rewarding and satisfying as that feeling may be, many people have a common misconception that money is the reason that people pick this career. That could not be more incorrect, and Williams was quick to clear up this misconception.
"Being an airline pilot doesn't pay as well as most think. While some pilots get paid surgeon money, most pilots just starting out will make 30k – 70k a year," Williams said.
Regardless of the salary, Williams has his sights set on becoming a pilot and is focused on reaching his career goals.
"Eventually, I would like to fly long-haul international flights to Europe, Asia, Australia, etc," Williams said.
For Williams and Turner, the journey is just getting started.
For those interested in pursuing this career, they both offered their most valuable advice: You must commit.