New teachers take on new environment
Mara Kim, Reporter, Photographer
November 29, 2022
In the Fall of 2022, two new teachers joined the Pioneer crew: Casey Wilen, the new art teacher, and Lauren Denofrio-Corrales, the new chemistry teacher. These teachers went through an interview process that included students, department teachers, vice principal Michel Shanley, and principal Andrea Markert. 
Wilen brings to U-High 16 years of teaching experience from Decatur's MacArthur High School where he also served as department chair.  He continues to work at Millikin University periodically teaching art education classes.
"So many things stood out about him," Markert said. "He was going to bring us the experience to push our program even further." 
Wilen feels strongly about art not having a right or wrong answer.
"I want students to feel comfortable trying new things,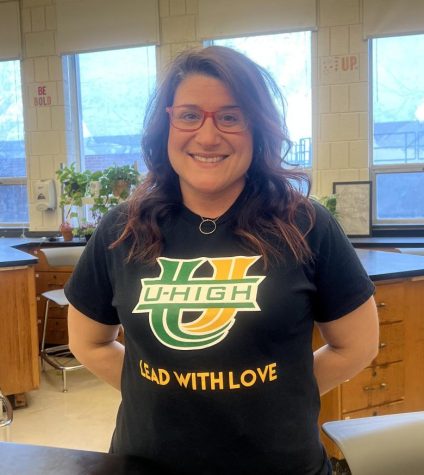 especially in art,"  Wilen said, "allow them to have a more creative outlet."
Wilen's course load includes AP Art, Ceramics, Art Media, and Art Fundamentals. Wilen has some up-and-coming goals for the art program. 
"My short term goal is to combine the traditional arts we do, with some of the modern technologies," Wilen said.
Corrales, too, had an impressive background prior to U-High. She taught at the University of Illinois Urbana- Champaign, where she served on the administration team for the college of liberal arts and sciences. She then relocated to Bloomington, where she was the department chair of sciences at Heartland Community College and the dean for science technology engineering, math, and business. During that time she taught dual credit chemistry 120 class. That class just so happens to be what Corrales is teaching at U-High, along with one section of general chemistry.
"She is just a caring person," Markert said. "I could tell she was going to fit with high schoolers really well." 
 "I want students to take away a love of science and chemistry," Corrales said. " In particular, (science) can serve people well in their everyday life to be informed citizens. (Students can) cut through some of the noise that you might hear in popular media, and have a sense of the scientific reality and our options as a global society."