Senior Spotlight: Athletics beyond school Payton Lanier
Sideline football cheerleader, Red Cross member, and National Honor Society president, Payton Lanier spends a majority of her time at Gymnastics Etc. Lanier has participated in gymnastics for 13 years and competed for 10. Lanier's athletic career began at Normal Parks & Recreation and developed as she became a more serious athlete. 
"I've done [gymnastics] for so long," Lanier said. "It's always been something that I've done outside of school. It's just something different."
Lanier has done gymnastics for many years, but holds a special spot in her heart for camps. 
"My favorite memory is probably camps, especially [the] Region 5 camp. For gymnastics, there are regions within the U.S. and Illinois is Region 5 with Indiana, Ohio, Michigan, and Kentucky," Lanier said. "There's a camp, usually in the fall before the meet season, where a bunch of upper-level gymnasts come together, and it's a lot of fun."
With this high level of competition comes lots of travel. Meets are generally held in areas surrounding Illinois like Chicago or St. Louis. However, Lanier usually goes to one meet outside the Midwest each season. In previous years, Lanier's gone to South Carolina and Arizona, and she's excited about her upcoming trip to Miami.
"This year for Miami will be cool. It's a very different setting than [previous meets] because it's such a big city. Our other far-away meets have been in random cities," Lanier said. "And it will be warm versus our normal competitions in February. I'm used to going to meets in the snow."
The level of experience Lanier has in gymnastics has allowed her to reach many achievements and even a leadership position. By practicing 16 hours a week, Lanier has qualified for state and competed at both state and regional meets. In addition, Lanier is the team captain. 
"I've been team captain for the past 3 years," Lanier said. "I lead stretching, and when the coaches have something to say to the other girls they come to me first."
Lanier's head coach, Brad Tubbs, is an important role model.
"I look up to Brad a lot," Lanier said. "He's a very fun and positive person."
As for a professional athlete, Lanier names Jade Carey as an inspiration.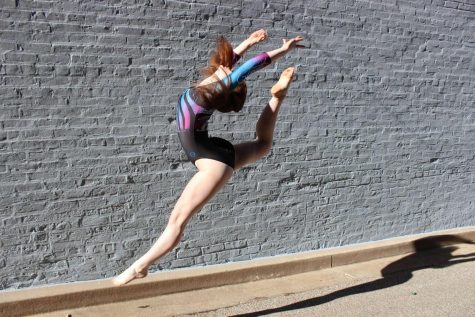 "My favorite gymnast is Jade Carey, who was in the last Olympics," Lanier said. "I see a lot of my gymnastics in her and she's fun to watch."
These skills that Lanier is referring to include flexibility, vault, and floor.
"I'm very flexible. Having that is an asset for leaps," Lanier said. "I'm also considered more of a 'powerhouse' gymnast so vault and floor are my strong suits. I still have the grace for bars and beam, but I have a lot of power that shows on vault."
Lanier's time in gymnastics hasn't always been easy, and she's had to overcome a difficult hip injury. 
"I've had four hip surgeries on the same hip because of a genetic disorder called hip dysplasia (a genetic condition where the hip socket does not entirely cover the ball portion of the thigh bone). I had small surgeries and then a bigger surgery the summer before junior year where I was in the hospital for a few days," Lanier said. "I couldn't compete at all during my freshman and junior year. Then sophomore year was during COVID, so I only competed in three meets. This will be my first year coming back and competing, which I'm excited about."
Looking toward the future, Lanier has committed D2 to Belmont Abbey College, a liberal arts school in North Carolina, where she will be pursuing nursing.
"It will be a lot different than gymnastics now. College gymnastics is a lot more team-based, which I think is more fun and exciting," Lanier said. "I think it can be hard to be close as a team sometimes, right now we compete against our teammates and it's very individualized. [College gymnastics] will hopefully be an overall more fun environment."
Thinking back through her years as a high school gymnast, Lanier recounted the different lessons she's learned.
"We talk a lot about accountability, like being accountable with your skills at practice, but also being accountable for yourself in life and having those personal strengths," Lanier said. "Obviously, gymnastics is important to me, but it's also about building character and being a good person."
Lanier also understands the importance of balancing athletics with academics and extracurricular activities, something she will continue doing at Belmont Abbey.
"When I was out hurt for three years, I learned to not depend on athletic validation," Lanier said. "You find that there's a lot more out there than just being an athlete. There's so much more."