Senior Spotlight: Athletics beyond school TJ Park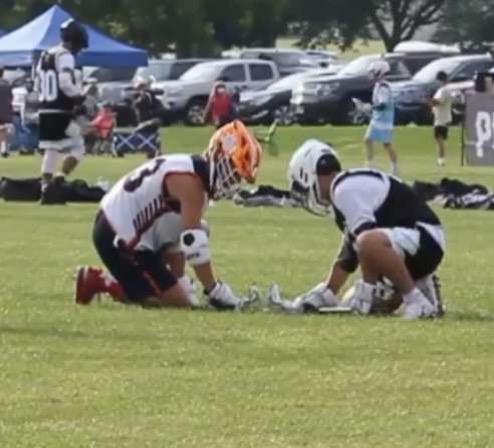 Senior TJ Park is involved in the Data Science Club, the Federal Reserve Challenge (an academic competition), the Red Cross club, and U-High wrestling. He also commits much of his time to lacrosse, competing through both True Lacrosse Illinois and True Lacrosse Virginia.
Park began his lacrosse career after discovering a special piece of equipment. 
"I started when I found a lacrosse stick in my cousin's garage," Park said. "I've played for a little over nine years now."
Park was able to start participating in this sport due to a misconception from his parents.
"Growing up, I wasn't allowed to play any other sports. Football had too much contact so I ended up playing lacrosse," Park said. "At the time, my parents thought that lacrosse didn't have contact."
Park says that another misconception about his sport is that people think it's boring. 
"It's actually fun to watch," Park said. "There are a lot of goals and action. There's quite a lot of contact and fights too."
Park consistently travels to the East Coast (Virginia, Maryland, Massachusetts, New Jersey, and Delaware) for his games, and sometimes even the West Coast (Nevada and California).
"The coolest place I've ever gone was this one place in New Jersey," Park said. "It was in the middle of nowhere, but it had some fire food."
As well as time spent traveling for games, Park dedicates much of his time to training.
"Before tournaments, I spend seven hours a week practicing," Park said. "At games, I warm up for an hour before, specifically for my position." 
Within his face-off position, Park has reached many achievements, including being a team captain throughout high school. 
"I won state freshman year," Park said. "I went to nationals each year during high school and I'm in the top 25 for my position."
Park greatly looks up to his coaches and lists coach Joe Nardella as his hero in the sport. 
"He (Joe Nardella) plays for the Whipsnakes, a pro lacrosse team. He's also the founder of the Faceoff Factory, a group that trains people in the face-off position," Park said. "I look up to him because he's done a bunch of stuff with lacrosse and he's about the same height as me. When you're shorter, it's hard to find that in sports. He's really good at what he does and he's a good leader."
A piece of advice that Park has learned from his coaches is to simply not give up. 
"Especially for face-off, it really matters if you lose the ball," Park said. "But if you keep chasing it, you can get it back."
Park has also learned lessons about handling redirection. 
"If something doesn't work out, it doesn't mean it's over," Park said. "It just means that there are more opportunities or other avenues to choose from."
While not college-committed, Park is looking to possibly play as a walk-on. 
"I am looking forward to playing as a walk-on. I'll be going to college for college, not for a sport," Park said. "Right now, I'm keeping my options open."