Fashion forward by looking backward
As new fashion trends arise, we begin to see aspects of old ones come with them. Senior Avery Fisher embraces past and present fashion trends through her unique style. Dressing similarly to her parents during their college years, Fisher said she often turns to their old photos for inspiration.
"A decade I would gravitate towards is the 90s for the basics," Fisher said, "but my love pieces come from the 70s era."
Because of her distinctive, retro style, Fisher wears outfits influenced by her fashion icons, such as Stevie Nicks, an American singer, songwriter, and producer known for her role in the band Fleetwood Mac.
"I love the saggy, laid-back, but also super put-together looks. I kind of call it streetwear. Stevie Nicks is my queen." Fisher said, "When I wanna go hippie, a flowy shawl and a top hat, that's a look, she's a style icon for me."
She also depends on her mother, Angela Disbrow, and friend, McKenna Kochel, to help shape her style.
"My inspiration is my mom and McKenna, McKenna inspires me to step out of my box. I'll see her wearing funky skirts that I wouldn't wear myself, but then, the next day, I'm wearing them. Also, looking back at old pictures of my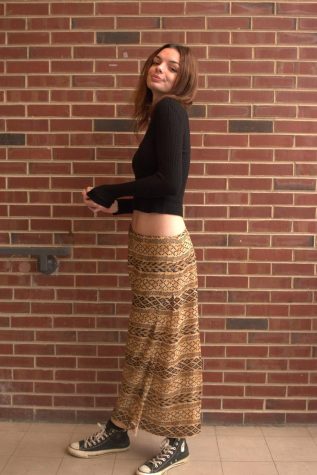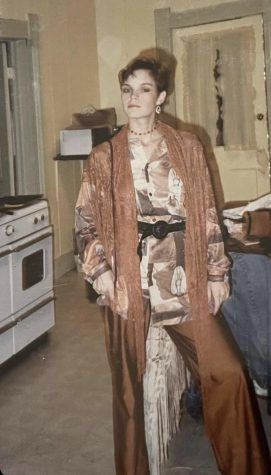 mom and having a little meeting with our outfits every morning and asking each other if we look good helps me feel confident."
Fisher first connected with friend and shopping buddy, McKenna Kochel, through fashion.
"I think sometimes I have a hard time talking to people, letting them know who I am, and finding my crowd." Fisher said, "Fashion has helped me find my way. I met Mckenna junior year and the reason I talked to her was because I saw her wearing a hippie style outfit and beads, and I never saw anyone really wearing that at U-High before. We hit it off from the start and were singing Queen together in math class. So I think it [fashion] has helped me connect, express who I am, and show people how cool I am."
Fisher makes it a goal to shop sustainably, often creating clothing from her thrift finds. She hopes to pursue a career where she can model and create clothing.
"I go thrifting every week. I love thrifting so much. I love creating stuff too, everything in my closet is cut by me. I tailor it to myself. I make clothes sometimes, too," Fisher said. "I've done some modeling here and there and I think next semester I will do a casting in Chicago and see if I can get signed with [a modeling agency]."
With many hopes and dreams for fashion, Fisher thinks society can do a better job of eliminating waste.
"Fast fashion sucks," Fisher said. "Trends come and go too quickly nowadays. That's why I like vintage stuff too is because it's timeless. One hope I have for fashion is that things aren't so live and die [in the future]."