Student Diversity Committee visits The Muhammad Ali Center
On November 11, selected students along with a few teacher chaperones drove down to the Muhammad Ali Center in Louisville, Kentucky. This was a follow up trip from the 2019 visit during which students created the value statements that can be seen hanging up around the school.
This two-day trip allowed students to explore the museum and learn about the Civil Rights icon, Muhammad Ali. While visiting the Center students engaged in learning about how to apply diversity and inclusivity within the school.
To introduce the Center, students participated in a scavenger hunt to learn about Muhammad Ali's six core principles: confidence, conviction, dedication, giving, respect, and spirituality. The group went on to participate in numerous listening circles and group activities.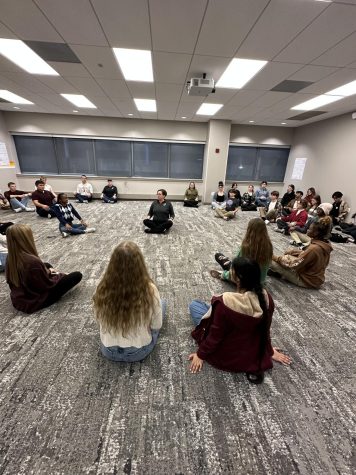 The listening circles were used as a way for the students to discuss experiences they have endured at the school and ideas for how their concerns can be addressed.
To make the retreat more personal the students had one listening circle with their two mentors Erin Herbert and Ashleigh Hazley. No teachers were allowed to participate or hear what happened in the circle.
"The most exciting part about the trip was when we got to talk (without teachers in the room) about administration and the things we went through," senior Tami Lawal said. "We were transparent. Most of us don't know each other well. This allowed students to create a brave space and share a Pioneer bond."
In addition to building relationships, students crafted an action plan that the committee will use to help shape diversity work this spring. These were the action statements the group committed to:
We speak out for one another

Alongside faculty and administrators, we will create brave spaces where student voices and experiences are heard validated, and believed

We will challenge policies and practices that discriminate against community members of marginalized identities.

 We will collectively advocate for structural change that advance equity and justice.

We will work with faculty and administration to create transparent lines of communication with the wider Normal, IL Community about decisions that harm our students.

We will hold all community members accountable for their words and their actions.

We are acting, we are leading and we will drive change.
Principal Andrea Markert said the goal is that every two to three years the school will send down a group of students to build on this experience.
"I want the students to bring back a better understanding of the intersectionality that we all have in our lives and ideas on how we can educate our fellow Pioneers so that we can make a more inclusive environment than what we have," Markert said.
This trip has been beneficial for both the students and teachers. Social Science teacher and Diversity Subcommittee co-chair Megan Somers described the trip as an overwhelmingly positive experience.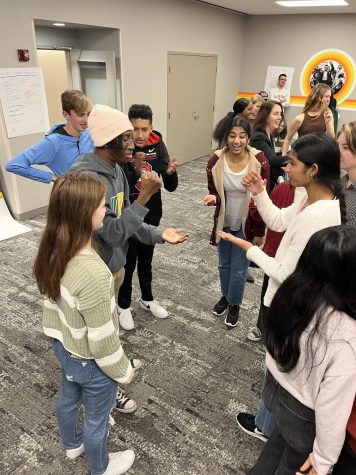 "It was really unique seeing students interact with each other outside the classroom environment," Somers said. "This is something that I really enjoyed seeing because I get to authentically know my students."
Senior Zoe Zeller and Lawal both agree that they all became close in such a short time.
"I enjoyed learning about my classmates," Zeller said.
Students and teachers are both looking forward to bringing back what they learned at the
Center.
Markert wants students to speak up and take action when they see something that can be done to improve U-High culture.
"Part of being an inclusive school is making sure that people are able to have discussions about their life experience and to have people learn what it is like to be an underrepresented group," Markert said.
The school went to great lengths to make sure this trip could be funded. According to Markert, this trip was funded by boosters ($3500), parents ($1000), and previous savings. Markert said this trip was worth every penny of the nearly $10,000 it took to send the group.
Markert, who did not attend the trip, said while the teachers and students traveled to Louisville she continued to work on restorative justice efforts in the school.
"I have three more training days (in restorative justice) between January and May and I wanted our teachers who are leaders in the school who are not getting that training to have that [the Muhamed Ali] experience," Markert said. "We only have so much money and I wanted to spread it out and get as many teachers involved as possible."
Students had an opportunity to share some of what they learned at the Muhamad Ali Center by leading faculty in an activity on social identities during the January 27 faculty Professional Development. Additionally, the student diversity committee will receive training on Restorative Practice Listening Circles with Dakesa Pina, director of Diversity, Equity, and Inclusion at the College of Education, in February.