Design Lab centers student passions
This school year, the sophomore class piloted a new style of non-traditional learning called the Design Lab Exploration. The goal was to help students dive deeper into their personal interests, or "passion projects."  
Inspired by his internship at Big Picture Learning School in Issaquah, Washington, U-Link director Brody Walworth pitched the possibility of this student-directed and project-based learning model. 
"What I saw out [in Washington] was students who are able to use their passion and interest to drive their learning," Walworth said. "As well as still being held to an expectation of getting things done." 
After Walworth and Mandy Stalets, curriculum coordinator of the lab schools, presented this idea, they were flooded with many questions on how this project could be done while still keeping students in their required classes. One compromise made was that only the sophomore class would get the opportunity to pilot the design lab.
"We didn't want to be pulling students out of the same classes all the time," Walworth said. "We had to create this rolling schedule where they were coming out of these two hours one day and then two different hours the next time."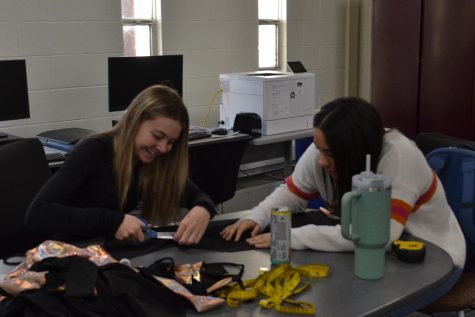 Once all the preparation was done, the Design Lab was ready to go. It was decided that the sophomore class would have eight hours total during school to dig deeper into their topic. Based on the topics chosen from a student survey, 19 groups were made in addition to several individual projects.
"My favorite [part of the design lab] is seeing the final product and seeing students be proud of their work," Walworth said.
For sophomores Eve Whitlow and Kaitlyn Ringler, the creative process looked very different for their separate groups. Whitlow's group chose to focus on interior design while Ringler and her group members dove into cooking and baking.
"Our goal was to make mood boards that would help people to create rooms," Whitlow said. 
While the original idea, redesigning a room, didn't work out, the group didn't waste time in finding an alternative. Whitlow and her group members spent their time researching patterns and colors that clients would want to put together when redecorating their room. This included going to furniture and hardware stores around Bloomington-Normal for inspiration as well as researching online materials.
"It was hard to make sure [the designs] were catered to what the client wanted…without involving what you want," Whitlow said. 
On the other hand, Ringler's group spent almost all their time in the Metcalf kitchen focusing on the recipes they were attempting to make with the tips and tricks they researched previously. While cleaning up their mess wasn't necessarily her favorite aspect of the assignment, Ringler felt she improved her time management and research skills from this exploration.
"People learned something they didn't know how to do," Ringler said. "It was a nice break from regular learning."
It remains to be seen what form and schedule the Design Lab might take in the future. 
"I would love to get more students  involved," Walworth said. "Our original plan is still something I want to try to take on where every student in the building has this opportunity."
After all the preparation and research, the two-hour exhibition was where the students had the opportunity to present their findings to their family and peers. This is where the success of this project was showcased. Through this exploration, the students were able to show themselves what their capabilities were and also let it be known how beneficial learning can be when it's focused on a topic of personal interest. 
"It was cool to look at all the things people couldn't do before, but now they could do because of the design lab," Ringler said.