Students travel far and wide for music
Students are making music a priority. A number of students have been going to, or buying tickets for concerts, sometimes in class. Sometimes, students are driving or flying hundreds of miles just to see their favorite artist perform.
After several years of cancellations due to the Covid-19 pandemic, many students, like senior class president, Allie Zastrow, are discovering concerts for the first time.
"Last summer really kicked off my love for concerts. And then this summer I am going all out," Zastrow said. "I'm going to Tailgate 'N Tallboys again. I am going to see Taylor Swift, Thomas Rhett in May, and possibly Morgan Wallen."
Many people are looking forward to seeing Taylor Swift perform in some of her classics from her entire career during her Era's Tour. Getting tickets for this concert was difficult. Luckily, many U-High students were able to secure their seats.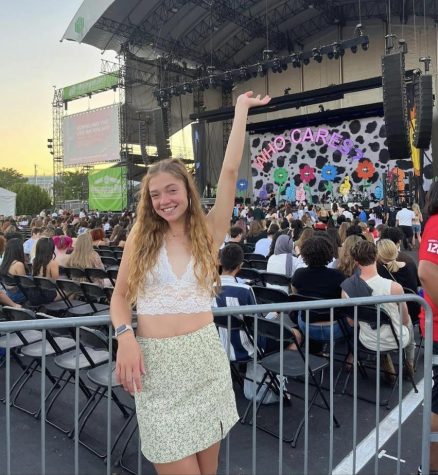 "Taylor Swift, I know is going to be a huge one. Everyone is really excited. I'm super excited for the atmosphere," Zastrow said.
Swift has many Midwest tour dates this summer, including Chicago, Detroit, and Kansas City The Eras tour tops the list for many people including Erin Stroh.
"In June, I'm going to the Taylor Swift concert in Chicago," Stroh said. "My sister is a huge fan and while I wasn't always that into Taylor's music, my sister has definitely made me like her more. So, I'm excited to go see her show."
Another popular artist that went on tour this year was Carrie Underwood. Brooke Bowling, a freshman, went to see Carrie Underwood's Denim and Rhinestones Tour in Moline, Illinois. This was her first concert since seeing Selena Gomez when she was nine years old in a pre-pandemic world.
"At first I wasn't sure if I wanted to go to her concert because I didn't think I knew many of her songs and definitely not from her latest album. But, I actually knew a lot more songs than I thought," Bowling said. "I had a fun time and I thought her props were cool. She sat on a swing above the crowd and sang. She had a lot of outfit changes, and she was very entertaining. She really put on a good show."
It's obvious that music is an important part of the lives of U-High students because of the joy it brings them.
"I love going to concerts. It helps create the summer vibe," Zastrow said.