Dancing to the hum of New York: chorus and orchestra spring travel
Members of the choir and orchestra left U-High on March 12 and began their 16-hour drive to New York. Despite taking a bus, the trip ran into some turbulence.
"It was a great trip other than the bus hitting a semi and breaking off its mirror," Lillia Laberthew said. 
Fortunately, the accident was not serious and no one ended up getting hurt. In fact, the situation got spun around into a positive experience.
"Mrs. Corpus (choir teacher) started dancing up and down the aisles to Jesus Take the Wheel," Laberthew said, "It was funny because it was the bus driver's ringtone."
Although the mirror wasn't a part of the original plan, performing at the St. John and St. Divine churches was.
"The churches were huge!" senior Chance Shepherd said, "I've never seen something that big that was also so beautiful."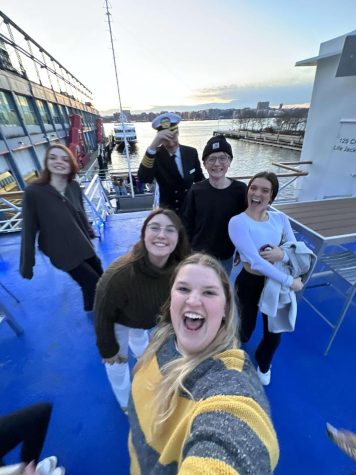 The orchestra and choirs were lucky enough to be able to sing and play inside the two churches. Then, they were offered free time.
"I know a lot of people either wanted to shop or sightsee, but me and some friends decided to ice skate outside the Rockefeller Center," Shepherd said. 
 Having a jam-packed schedule allowed the students to see and experience so many different things like the new musical, Some Like It Hot, and the popular musical Hadestown.
"Some Like It Hot was easily my favorite musical I've ever seen," senior Aaron Reed said, "The music, the acting, it was all so perfect…I feel like there was a little bit of something for everyone."
After the show was a night on the dance floor.
"I liked the dinner cruise a lot. It was fun because we got to end the trip with a party," Reed said. 
Despite some unanticipated events, the trip remained a highlight for the 79 students who got to participate in one of the first school travel trips since 2019. 
"Although there were struggles, it was one of the best U-High experiences I've ever had," Laberthew said.