The spirit stick is an integral part of U-High tradition and culture, with the spirit stick holders not only hyping up the crowd during games but also choosing the theme for games and getting more people to come and support their peers.
After many questions surrounding the ownership and implementation of the spirit stick, the traditional system was changed to incorporate multiple spirit stick holders through an elective process in hopes of being more inclusive and representative of the entire school. 
"I honestly think that the way that they were elected was really good because the whole class was choosing and you had to petition for it," senior Penny Gardner said. Gardner is one of the three elected spirit stick holders.  "I liked that you couldn't just sign up for it. You have to get signatures so that people know that you're a good person who will be ready for it."
Within the new system, spirit stick nominees must obtain 30 student signatures and sign the petition to acknowledge their responsibilities as spirit stick holders. More information regarding these specific requirements can be found linked on the "Petition for Spirit Stick" attachment.
"I believe I became a spirit stick holder because I showed a lot of my effort at the girls basketball games last year when the spirit holder wasn't going to the games," Gardner said. "I realized that not a lot of people were going to the girls' sports as much as they are the guys' sports, so [trying to change that] gave me more recognition."
Through this new election process, seniors Devan Tupper, and Cameron Clifton were also elected the new spirit stick holders for the 2023-24 school year. Splitting the responsibilities of the spirit stick holder among three people requires a new level of coordination.
"We kind of divided and conquered," Tupper said. "We knew that Cameron played football. He couldn't be the spirit stick holder at football games, so we gave him most of the volleyball games before he got hurt. And then Penny wanted to do a lot of girls' basketball games and I wanted to do a lot of boys' basketball games. So then we split that and me and Penny split the football games, and Cameron will also sprinkle in with girls' basketball and boys' basketball."
In addition to attending games, the spirit stick holders are also in charge of coordinating the themes for the events.
"I do all of the Instagram posts and the Instagram stories," Gardner said. "I'm the one who made the general list of themes, but we do talk about it and switch it up if we decide we don't like the theme [we chose]."
Now that there are three spirit stick holders, the physical spirit stick also moves between them. This is another coordination piece they have to keep in mind, although the spirit stick holders all reported that it hasn't been a problem.
"It's just something we talk about," Clifton said. "Whoever has it for that night, we usually just give it to the other person sometime during school."
This system has also allowed for more flexibility in terms of balancing their personal lives with the responsibilities they have as spirit stick holders. 
"I think a positive [part of the new system] is that more people can go to games," Tupper said, "Like, if I'm sick, then Cameron can have it. If we're both sick, then Penny can have it and vice versa."
In addition to these benefits of flexibility, there have also been attempts to represent more sports with the new system.
"I think it's been positive because it's brought more attention to more sports," Gardner said. "I've been able to post more about other sports, [including] ones that aren't usually attended by a student section." For example, Gardner was the first ever spirit stick holder to attend a swim meet.
Steve Evans, the Athletics Director, says his goal is to not have the spirit stick feel like a one-sport thing.
"I think we are achieving the goal but haven't completed it yet," Evans said. "I still haven't seen the spirit stick at every event." 
The new system has also caused some possible discrepancies between how much respect each of the spirit stick holders has received from the student body. 
"People aren't respecting the spirit stick holders as much just because they think that because there's three of them, they're not all equally important," Gardner said. "I think that's been kind of a negative aspect, and I feel like I've seen that people are not as respectful to me compared to the other two spirit stick holders." 
Despite these challenges, Gardner has tried to stay positive about her role and to use her position to encourage others to follow in her footsteps.
"I've tried to have more confidence going into the games. I feel like, especially at football, last year I would have never been someone who would go out into the front and try a cheer," Gardner said. "I've also tried to encourage other girls to go and try to be more outgoing in sports settings."
Another thing to consider is the fact that the spirit stick holders are being elected by the incoming senior class, which is something that has been a source of conflict.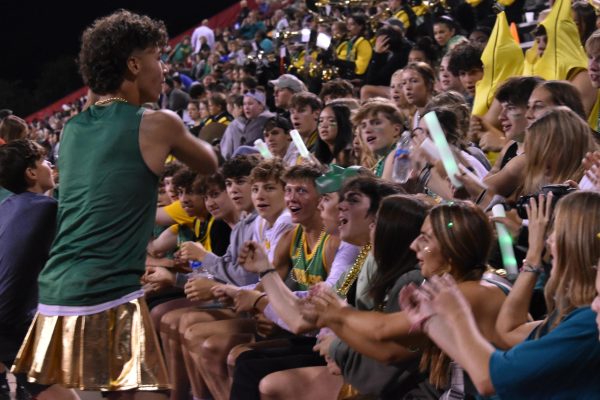 "I think more so it's the seniors leaving it to the juniors and not the juniors getting it," Tupper said. "I think our class should have input on who gets the spirit stick after we leave."
At the same time, this has brought up some concerns about the system reverting to something that reduces the amount of diversity of the spirit stick holders selected.
"I think since we're not gonna be here, it's not really up to us. We don't know their class as well as their own class knows their class," Gardner said. "I feel like it would just go back to the same tradition as it was before [because] they're going to want to vote for the people they're friends with in the lower classes."
In regards to the new system overall, Evans said that the culture of it is much better. He also commented on the continual growth that he would like to see.
"The next thing is the consistency of the student section," Evans said. "We should support each other and not worry so much about where the spirit stick is at."