'Cello' from the other side
Video courtesy of Ethan Schlenker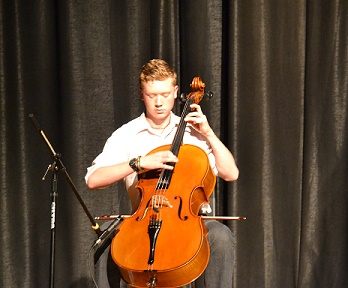 Lasers aren't just for trap music anymore.  Senior Ethan Schlenker will accompany the halftime laser show at a Chicago Bulls game on December 21st as a cellist in the Chicago Youth Symphony Orchestra.
The CYSO brings together some of the best young classical musicians in Illinois. This spring, he began its rigorous audition process. First, he recorded two solos and scales to gain acceptance to the orchestra. He was chosen and began to prepare for his live seating audition.
"I prepared about one and a half hours of music: a Prokofiev symphony and two ten-minute pieces," Schlenker said.
Judges chose excerpts for him to play and selected Schlenker for Encore, the highest ensemble of the highest orchestra.
He has joined a choice group of U-High musicians who have played with the CYSO. Jeff Holbrook (class of 2002) and Phil Kramp (2005) did the same and now have successful professional careers, according to orchestra director Margot Eherlich.
Schlenker appreciates the talented musicians he plays with and the opportunity he has to "make some really good music."
"It's good to know that I'm right in there," Schlenker said.
He drives to Chicago at least once a week—usually more. His record is four times in one week for rehearsals, a recording, and a concert.
With the CYSO, he's played Edvard Grieg's Piano Concerto, Ludwig van Beethoven's fourth symphony, a contemporary piece by Bryce Dessner, and more.
"We play a great variety of music," Schlenker said.
According to Ehrlich, Schlenker is making the most of his CYSO experience by capitalizing on every opportunity it affords.
"He's really pushing himself. He's dived in with both feet," Eherlich said.
Schlenker has been playing for eleven years and won't stop now.
He plans to study cello performance in college, hopefully at Oberlin Conservatory, "one of the big names in music schools," Schlenker said.
Oberlin's faculty truly stand out.
His lesson with Dr. Amir Eldan, the director of Oberlin's String Program, was "probably one of the best lessons of my entire life. He's very clear with how to get musicality from the instrument," Schlenker said.
These lessons also benefit U-High's orchestra. According to Ehrlich, Schlenker shares key pieces of professors' advice with his peers.
He will pursue a career in music, whether as a professor, a classical musician, or a cellist who crosses genre boundaries.
"There is no situation I can see in which music would not be a part of my life," Schlenker said.
With testing, extra-curriculars, college apps, and school, Schlenker and other seniors are familiar with stress. But he has a unique way of handling it. Practicing.
"Music is my life. Music is how I release all of my emotional tension," Schlenker said. "I wouldn't say that music affects the rest of my life. I would say that the rest of my life affects my music."