Sounds of industry and rhythm inspire creativity
All Photographs and Videos courtesy of Mr. Wilen's instagram.
@wilencasey
Artists derive their inspiration from many different sources. Some enjoy taking patterns from nature, while others like to stretch and bend others' works and styles into their own. Learning the reason artists choose what inspires them to create is oftentimes the same as looking at their history and development as a person. So, what better way to get to know our newest faculty member and art teacher Casey Wilen than by looking at his artwork?
Wilen currently works mostly in abstract mixed media that he uses to make a chaotic yet organized look to his works.
"The inspiration behind most of my work has really started to boil down to the conflict between the geometric and the organic," Wilen said, "like creating visual noise with textures, but then breaking up that space with geometric shapes and lines."
If you can imagine how an overgrown dystopia feels, that's how some of his artwork looks.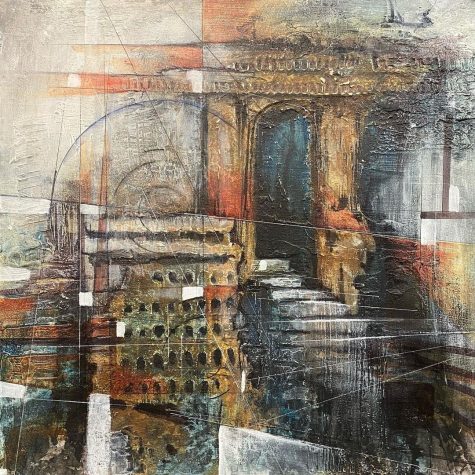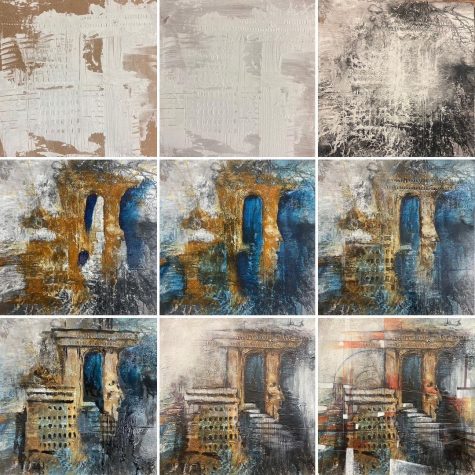 His work is often heavy with rich Phthalo Blues contrasted against an orangey brown rust paint, overlaid on scraped plaster that comes together to resemble abandoned architecture or mathematical functions. Sometimes he uses a bright vermillion background with dark prints of gears and chicken wire that feel like a wreck in the desert.
"The deeper part of it, I think, is really trying to capture the ideas of industrialization and mechanics, things like assembly lines," he said. "Just machines, the noises they make, and the sound of production visually."
Wilen takes those central ideas and uses his intuition as an artist to guide them into a coherent picture.
Abstract machinery is easy enough to explain as a concept, however, where that concept is derived from may be one of hundreds of things. Wilen's derivative happens to be his experience working a part time job in a factory as a teenager.
"Working in this cutting and dye factory in the second shift, there are all these sights, smells, colors, textures, a lot of them unpleasant, but also in a way beautiful," he said, "and there was a rhythm you would get into while operating these machines. Everything was about timing, and things would make noises in sequences, and it was kind of musical."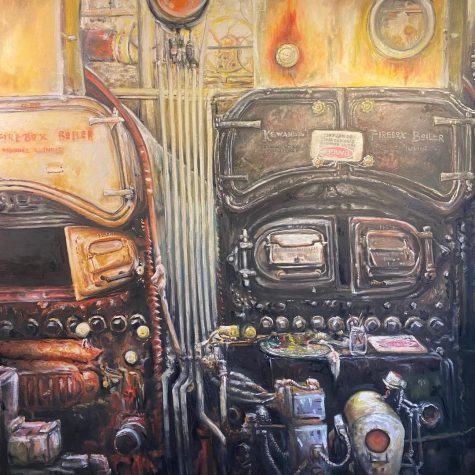 That environment and all its working parts has stayed with Wilen and manifested in the majority of his works to this day.
The blatant gears and machines and math of the factory that's obvious in his works isn't the only factor at play.
"At the time I was listening to a lot of industrial music, of course. Artists like Ministry, Nine-Inch Nails, KMFDM, stuff like that, and that really inspired a lot of my artwork," Wilen said.
He's since expanded his playlist to more alternative hip-hop and 'school friendly' tunes like Aesop Rock, Doseone, and The Ancient Astronauts, but the importance of music in his studio has not faded.
This year the art room was fitted with Wilen's very own Cambridge SoundWorks surround sound speaker system, easily claiming the title of best classroom sound system (save for Stroud Auditorium). Many of his students appreciate the ambiance during their creative hour, and some even use the playlist of the day to inspire their own artwork.
"I've had this audio system since about 2003. Our family friend was a big tech nerd… and at the white elephant we had for Christmas, we're all wrapping up garbage and of course he wraps up this really high-end five speaker sound system with a subwoofer and a small amplifier, and I happened to pick that one," Wilen said.
Between the new houseplants and the variety of sounds he has introduced to his room, Wilen has made himself at home while also creating an inspiring space for students.