"Change is in the Process": Pioneer football looks to become competitive in the CS8
"Straight Upward," senior and one of the team captains Josh Hoffman said about how the program's trajectory looks to be under the new direction of new head football coach Brody Walworth.
Walworth is no stranger to coaching high school football as he led Pleasants Plains to 3A state runner up in 2017. Walworth's football experience extends to his personal experience as he also played from the 6th grade thru high school, where he played for Gerald Temples and George Barnett who is now at the University of Iowa. It was then that Walworth decided he wanted to teach and coach high school football. 
The unique school setting and the opportunity to play in the Central State 8 Conference(CS8) are what drew Walworth to U-High. And he enters a program with a history of . challenging numbers. The past four years U-High's roster sizes have been  50,49,39,51 dating back to the 2018/19 season. In comparacion, CS8 rival Rochester has had roster sizes of 73,76,80,99 respectively also dating back to the 2018/19 season.
Walworth plans to close the gap between those other CS8 teams by "pounding the hallways" and showing kids the value of the football experience.
 "I really do believe that there is no experience like football," said Walworth "And until you've done it, you don't know what you're missing out on."
According to Walworth, the main differences between high school and college football are "measurables" (such as size, numbers, experience) and having a love for the game.
"At some level there are measurables," Walworth said "But really you have to love football more than anything to play at the next level because it becomes a job."
Dubbed the "silent killer" by his teammates, lineman Elon Mondy stands at 6 '2 and weighs in at 280 pounds. Mondy is weighing his options over several college opportunities, and certainly fits the description of a "College Football Player." 
"I do plan on playing in college," said Mondy "And what I plan to carry there (from U-High) is being able to handle adversity and keep going with what you have because we usually have the least amount of players on the sideline but we fight until the end."
As a freshman, Mondy "was shocked" that he was able to earn a starting position on the varsity team but had no time to think and immediately had to learn to bring physicality on every play. 
"In junior high I would take some plays off," said Mondy "But in high school in this conference you have to keep your feet moving and go 100% every play or you will get embarrassed"
Over the years, Mondy has learned that leadership is a big aspect of football as he has taken sophomore and fellow lineman Joe Hunt under his wing to show him the ropes of the CS8.
"I love it," Mondy said of both the game and his leadership roles.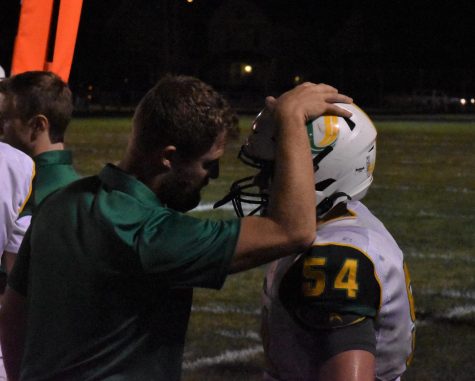 Mondy is joined in this leadership by co-captain Josh Hoffman.
"Josh is another great kid that everything he does is 100%," Mondy said. "He is a smart player, a hard player, and unfortunately he couldn't play this year but he has been with us at practice helping anyway he could"
As a senior running back/safety, who was unable to play due to injury, Hoffman was able to take a step back and learn to be a servant leader, providing water to players during games and filming practices for the team to watch after practice. 
Hoffman described the CS8 as a "different dog" and has learned to use his speed and size to his advantage. He also had a key ally on the field in his younger brother, Zach Hoffman.
It's always nice to know that I had someone who had my back," Hoffman said. "And I believe all the guys had my back, but it was blood so it was a little different"
Although Hoffman doesn't plan to play in college as of now, he has considered walking on at University of Wisconsin Stevens Point.
Mondy and Hoffman have internalized Walworth's motto for the program: "Process over product." 
"(I want us) to make sure we are doing the right things all the time," Walworth said, explaining the motto and how he plans to make strides to make U-High competitive in the CS8.