Preview Girls Track: A season of adjustments
After a second-place finish at the IHSA state finals in May 2022, the girl's track team is preparing themselves for some new changes.
Since having their season canceled due to the COVID-19 pandemic in the spring of 2020, the girl's track program has seen tremendous growth at the state meet. However, the 2022 state meet was an experience like no other. After having to compete in the pouring rain, their continual hard work paid off. The team left Eastern Illinois University with another trophy to add to their collection.
"It was a really good accomplishment that [the team] had all been working towards for the entire year," junior Reese Mitchell said. "It showed all the hard work we had put into the season."
But it's time to start looking toward spring competition. After losing key senior leaders, the girls are focusing on keeping their team chemistry this spring through the changes they are facing.
"I hope [the loss of the seniors] doesn't affect [the team] as much as I think it will," senior Anna Barr said. "We had some really talented girls leave and it's gonna be really tough to fill their shoes."
The program is also going through a coaching transition after coach and teacher John Niesler left U-High at the end of last year. The program brought in Randy Anderson along with new assistant coach and U-High alum CJ Hamilton. It awaits to be seen what coaching style these individuals will bring to the table.
"I always like the end of each season because you see how much everybody has grown," Barr said. "Honestly I think that's my favorite part, watching everybody progress."
Additional changes make this spring look very different for sophomore Reagan Bull as she transitions to mid-distance running after running short distance last year.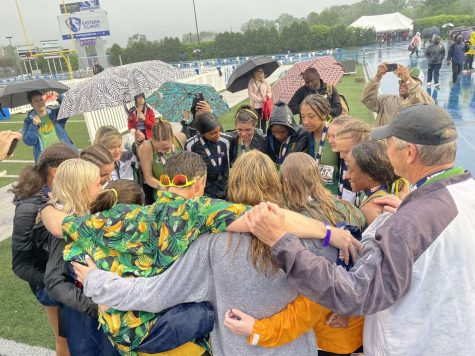 "I was trying to get stronger and more explosive," Bull said. "I did do sprint training for a long time, but this season I did that [sprint training] and mixed in mileage runs."
Similar to past years, the distance crew mainly consists of girls who ran cross country earlier this fall. With the loss of last year's top distance runner Delaney Fitzgerald, freshman Natalie Bierbaum and sophomore Zoe Carter look to fill her shoes. Bierbaum and Carter are also preparing themselves to be able to run more consistently after nagging injuries during cross country this past fall. 
"I take [training] a lot slower," Carter said. "I took three weeks completely off and now I'm slowly getting back into it."
For the mid-distance runners, the focus has been on the 4×800-meter relay. The team feels like they have a good group to potentially place at the state this year as long as their preparation and their workouts stay consistent.
"[Track is] not really team-oriented, it's more individual until you get into the relays," senior Lynnae Wollenweber said. "The relays are more team than anything."
On the sprinter's side, the focus in preparation has a lot to do with what the girls have been doing outside of scheduled practices. Mitchell has been continually working out multiple times a week as well as running club track this winter along with senior Allie Zastrow. Barr has also continued to train year round specifically in hurdle work. 
"I'm in the gym lifting every day," Barr said. "On top of that, I do endurance workouts twice a week."
Both groups have many personal and team goals for this year. Mitchell is looking to improve in the 100-meter and 400-meter events while also making sure she continues to be an asset to her relay events. Zastrow is also ready to get back to where she was during her sophomore year in the triple jump event. 
"Honestly I know we're going to be successful," Zastrow said. "I always have so much fun during track season. I love the team so much and I know it's just gonna be a great time."