17-year-old rock star
Vincent Casali has been playing the bass in his father's band, "Killer Of Giants," since he was fourteen. The band, which is a tribute act to Ozzie Osborne, has played nearly 300 shows since Casali joined. 
"Every night we go out, it's a new adventure," Casali said. "When we had our group together for the first time, and we all performed, that was a great memory."
Ella Mueller, Casali's girlfriend and fan of the band, described his integral role. 
"[Vincent] definitely keeps the drums together," Mueller said. "He's good at communicating with the different members to make sure everybody is at the right tempo."
The band plays mostly in adult clubs and bars, and Casli said he has learned to perform in that environment. 
"It can be real at times, but [I've learned] how to behave and act around every type of person," Casali said.  
Like his dad, who created "Killer of Giants" nine years ago, Casali hopes to pursue a career in music. 
"I'm not sure [what kind of career I want] and that's really difficult for me," Casali said. "It's something I think about everyday."
Casali also plays the tuba in the marching band and jazz band‒a very different scene from that of a rock band; but he is passionate about both. 
"I'm really into music education, and I'm just as passionate about playing tuba and classical music as I am [about 
being] a rock star," Casali said.
Casali's parents and girlfriend are very supportive of his passion for music and have even been influential in the expansion of his music taste.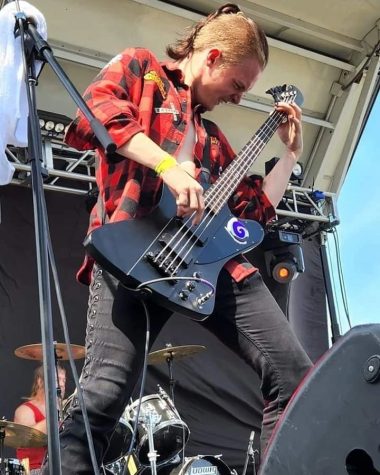 "I've been playing [bass] for ten years," Casali said. "I didn't like music for a while when I was younger, because it
was something that was always around and it was loud. Then, I started to listen to the Beatles. Then, I was more into my mom's type of music which is industrial metal and new metal, so [my parents] had a lot of these elements around me and that's how my music taste expanded."
Casali has found his passion in music and anyone can see that. 
"He has a whole different demeanor on stage," Mueller said. "When he's on stage he's totally himself and it's cool to see him in that zone in his mind."
All pictures are courtesy of Vincint Casili's instagram, @blackout_bite.