Senior Spotlight: Athletics beyond school Annika Klauss
Senior Annika Klauss [KLOWS] finds interest in traveling, journaling, watching horror movies, and hiking. She also has a strong passion for the universal sport of soccer. 
Klauss will be playing D1 soccer at Ball State University and is excited about the perks of being a college athlete.
"I'm ready for the gear and, if we're being less shallow, the advantages that we get on campus," Klauss said. "We get our own dining halls and dorms and get to pick our classes first. We have our own tutors and trainers that will help us, and we get very special treatment." 
Klauss is also eager about all of the friendships she will make with the team.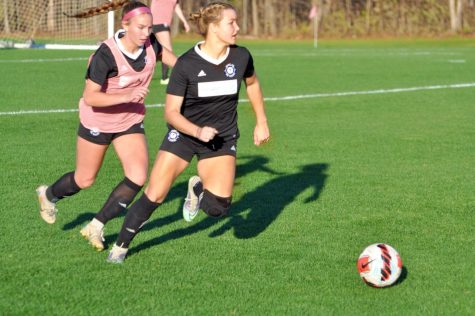 "I know some of the girls already and they're all super sweet," Klauss said. "I already have a set group of friends, which is really nice going into college to be able to know people."
Currently, Klauss plays for Indiana Fire Academy ECNL, driving to Indiana for practices each week. 
"I travel two and a half hours each way, five hours total for a practice. Practices are three days a week," Klauss said. "Games are anywhere east of us."
Outside of team practices, Klauss makes sure she does individual work and keeps her body in shape. 
"I lift on the days I don't have practice. I also do a lot of stretching, yoga, and band work," Klauss said. "Before our games, we do band activations to activate our hip flexors and strengthen our ankles. I stretch really well after games too."
In addition, Klauss focuses on eating healthily.
"I drink 80 ounces of water every day because I try to [drink] half my body weight," Klauss said. "I carb load the night before games– so usually pasta. Before my games, I usually have a smoothie– so fast carbs and sugars. I always have chocolate milk after my games."
Despite these intentional efforts, Klauss has still experienced her fair share of injury. 
"I tore my hip flexor in seventh grade. Then I dislocated my knee five times. Four times on my left knee and one on my right," Klauss said. "I had surgery on my left knee and was out for nine months after."
This difficult period of recovery taught Klauss lessons of perseverance and dedication.
"It was really hard because I missed my team and every time I went to practice I wanted to cry and just run," Klauss said. "When I couldn't do it, it was so upsetting because I felt like I was a failure and wouldn't ever get to play division one soccer."
Klauss' fears were proven wrong when she received a call from the Ball State soccer coach, Josh Rife.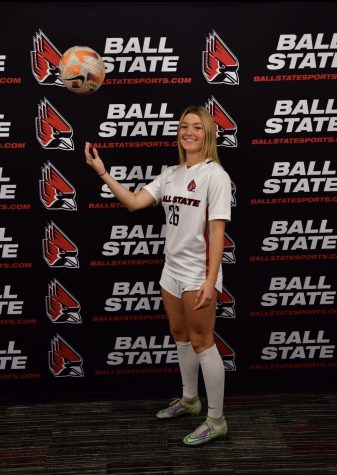 "My favorite memory from soccer is probably when Josh gave me the official offer on the phone," Klauss said. 
This accomplishment can be attributed to her competitiveness and aggressive playing style, adding to a list of Klauss' other soccer achievements.
"I played in London [United Kingdom], which was really fun, for the Chicago Fire Elite ID team. Then I played on the ODP Midwest Regional Team in [San José] Costa Rica, which was also really fun," Klauss said. "We were second in our conference both years for ECNL and went to nationals in 2021. I was the team captain for Central Illinois United in 2020, 2021, and 2022."
While excelling in her athletic performance, Klauss also places importance on her academics. 
"My coach, Brandon Menke, always told me to step onto the field and be the best person out there. I think that's a good lesson that applies to life too," Klauss said. "You should always try to be the best that you can be. Even if someone's clearly better than you, your goal is to be the best on the field or be the best in the classroom or whatever else you do. Strive to beat someone in athletics or academics."
Klauss is looking to major in exercise science at Ball State and is ready for her next four years as a Cardinal.
"Chirp chirp!" Klauss said.